---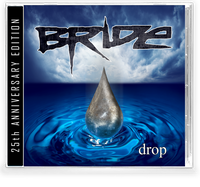 Sale
BRIDE - DROP (25TH ANNIVERSARY EDITION) CD Remastered, Legends of Rock

Hard to believe that it's been 25 years since this album dropped back in 1995.  2020 marks the 25th anniversary of this epic album from 80's Rockers Bride.
25th Anniversary Edition

12 Page Booklet
Jewel Case Edition
Release Date Aug 14th
2020 Girder Records
Remastered by Rob Colwell of Bombworks Sound
Unique, Alt-Rock, Different, Grungy... there are many different words that one might describe DROP from Christian Metal Sensation BRIDE. Dale and his brother Troy were the Axl and Slash of the Christian Rock Scene. Bad-ass (yes, I said it), yet their first albums were glam metal. Not that there is anything wrong with that. Yet this album just sowed up on the scene as a surprise. If you were expecting more glam metal, like Trixter or Poison, this was much closer to Guns and Roses meets Pearl Jam and Mumford and Sons. And although many that tried their hands at converting their 80's metal to more of an alt-grunge failed miserably, Bride did something rather unique while trying to say relevant. They not only captured the attention of critics, they managed to create an album that just gets better with age. 25 years after this album dropped (pun intended) this album just keeps getting better.   With new artwork and completely re-mastered by Rob Colwell, it's been re-mastered and reloaded to perfection.
Digging into the music you'll first notice the album starting off rather heavy with Personal Savior and song 3 You Never Knew Me. Mandolin on Life is the Blues and the Banjos that start the second track Mamma shows the creativeness that Bride brought to this album. After listening to Mumford and Sons you would think that modern bands always used banjos and such however in 1995 there was not a banjo in-site.   How Long is reminiscent of super early AC/DC with those slow yet heavy guitars, not the Back in Black but the '74 Jailbreak AC/DC with more of a grunge element. This Bride album is years of seasoned musicianship and is everything we said. Better 25 years later.
Tracks
Personal Savior 4:01
Mamma 5:04
You Never Knew Me 4:33
Life Is The Blues 4:25
Help 4:58
Only Hurts When I Laugh 3:42
Thrill A Minute 3:39
How Long 4:58
Have You Made It? 4:13
Nobodies Here 4:09
I'm The Devil 6:56
Jesus Came Back Via Jesus In A Pawn Shop 3:57
Dale Thompson - vocals
Troy Thompson - guitar, mandolin, banjo
Jerry McBroom - drums, percussion
Steve Curtsinger - bass guitar

Recording, engineering, mixing - Chris and Dino Maddalone
Mastered by Eddie Schreyer
Art Direction - David Bach
Photography - Michelle Thompson