---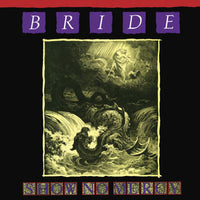 Sale
ABOUT THE ALBUM
Label: Retroactive Records - 2011
Band: Bride
Title: Show No Mercy (The Originals: Disc One)
Album Notes
The origin of Bride dates back to 1983 when brothers Dale and Troy Thompson formed Matrix, a hard rocking unit in which Dale handled bass and lead vocals and Troy all guitar duties. After recording four demo tapes over the next three years, the two got their break when promoter Dorn Repport arranged for Matrix to open for Daniel Band in Pottstown, Pennsylvania. Bride played before a wild crowd of 1000 that included executives from the Refuge Music Group. Refuge?s interest skyrocketed when they saw the band sell out of every tape it brought to the show! Six months later the band, now known as Bride, signed a contract with Refuge/Pure Metal.
The 1986 release of SHOW NO MERCY immediately catapulted Bride to the elite ranks of Christian metal! Much more muscular than the standard hair metal of the day, it was the extravagantly talented vocals of Dale Thompson and the dominating, skillful axework of brother, Troy Thompson that set the band apart. While many Christian metal acts were described as Christian versions of their mainstream counterparts, Bride's sound was dark, powerful, and most importantly original!
This album in disc one in The Originals collector's series. The Originals series ? consisting of the first three BRIDE albums - brings back all the original vinyl artwork, lyrics, and band photos. All three albums are each packaged in its own pristine 6 panel digipak featuring the original track listing, a three-part liner notes story showcasing Troy Thompson's memories of the era. The first three BRIDE albums are very much in line with the hard rock and metal styles of the big 80's era. All three albums are absolute Christian metal classics. Sonically, all albums have been edited and digitally remastered for dynamic perfection. The song to song transition work is fantastic. Each album has been mastered to modern volumes without losing vocals, punch, or the magic we remember these records originally having. For fans of Stryper, Judas Priest, and Dio!
  9. The First Will Be Last