---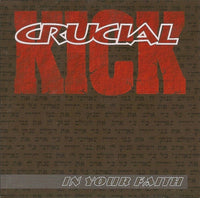 CRUCIAL KICK - IN YOUR FAITH (RARE CHRISTIAN ROCK/METAL FROM AUSTRALIA)
Here is a rarity and we only have a very limited amount of these two titles!
CRUCIAL KICK - In Your Faith
Jewel Case edition with 4 panel insert with lyrics
Classic Christian Rock / Metal from 1994 band hailing from Australia. Only two releases from this band and these are some of the last of the bands original copies! 
'In Your Faith' features some classic sounding Christian Rock for fans of Stryper and the like. 
Track Listing:
1 Hey Child
2 Faith (Table Of Life)
3 Your Eyes
4 Disguise
5 Never Be Afraid
6 No Surrender