---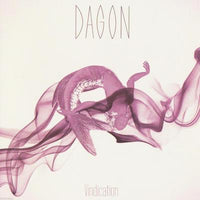 Factory Sealed, 100% Guaranteed, Ships Quickly!
DAGON is a Christian metal band like none other. Taking the band name from a short story by H.P. Lovecraft and a lyrical story telling style akin to Metallica Ride The Lightning era you can see why DAGON has become a Bombworks Records fan favorite with super heavyweight status firmly in the back pocket! The Midwest has always been home of true heavy metal and that is exactly where this Michigan based band takes their inspiration with their fourth album, and second EP, Vindication. You can clearly hear the galloping guitars along the lines of Iced Earth and classic Iron Maiden, hailing allegiance to powerful traditional metal. The Ocean themed lyrics have more in common with the storytelling of bands like Iron Maiden, Metallica, Novembers Doom, Empyrean Sky, Tourniquet, and Iced Earth.
Vindication is everything Dagon is known for ? metal that is brutal and crushing, yet, very catchy. It?s a perfect mixture of thrash and death riffs with excellent vocals. It?s one of those rare artistic creations of modern extreme metal built on a tradition power metal / thrash foundation. Pegging DAGON into a specific genre has never been easy, but fans of elite extreme metal with hooks big enough to catch a sea monster need look no further. Dagon is ready to claim more minions from the ocean of Heavy Metal fans.
TRACKS
01. The Nameless
02. Blood of the Ancients
03. Where Captains Fear To Sail
04. Land of Phantoms
05. The Triton?s Daughter