---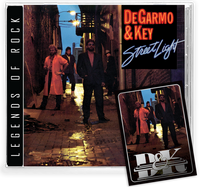 Sale
We strongly encourage you to purchase hassle-free low cost insurance for your order at checkout. It will cover your entire order against damage, not just this item. Insurance does not cover lost packages or delays by the carrier. 

Remastered
High-Quality Expanded

 

8 Page Booklet

 

with photos and lyrics
Jewel Case CD

Special Print LTD Collectors

 

Trading Card #86

2022 Girder Records,

 

GR1135

Originally Release in

 

1986
Legends of Rock™ Edition

Release Date:

 

May 20, 2022
UPC:

 

763416070080

Description
This Girder Records Legends of Rock™ release come in a jewel case with multi-page booklet insert that includes readable lyrics, photos, liner notes. It also comes with a special LTD edition collectors trading card sealed inside, limited to only the first pressing.  
Released in 1986 on Power Discs Records, Street Light was the band's seventh studio album and many fans label it their favorite album. Following the previous more keyboard driven albums, Street Light brings the band closer to their earlier rock roots. It features the Christian radio hit, "Every Moment," a Springsteen-esque rocker that stayed at #1 for six weeks in 1986. The album also features a remake of the song "Addey," which first appeared on their debut album, This Time Thru, but this version has all the makings of what a hit song should be.  

Produced by DeGarmo & Key and John Hampton for Mint Productions
Tracks

1.    Every Moment 3:51
2.    War Zone 3:19
3.    Addey 4:09
4.    Soldier Of Fortune 4:00
5.    Don't Stop The Music 3:40
6.    Don't Throw Your Love Away 3:16
7.    Video Action 3:39
8.    She Believes 4:15
9.    Holy Hustle 3:08
10.  Up On A Cross 2:45
11.  Inside Out 2:58

Dana Key: Lead vocals and guitars
Eddie DeGarmo: Keyboards and vocals
Greg Morrow: Drums and vocals
Tommy Cathey: Bass and vocals