---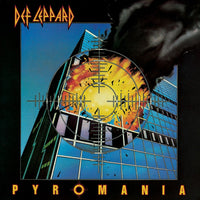 Sale
DEF LEPPARD - PYROMANIA (*NEW-CD, 1983, Mercury) 80's hard rock classic!
Few albums had the impact on music and culture that this album had!
Tracklist
1 Rock Rock (Till You Drop) 3:52
2 Photograph 4:12
3 Stagefright 3:46
4 Too Late For Love 4:30
5 Die Hard The Hunter 6:17
6 Foolin' 4:32
7 Rock Of Ages 4:09
8 Comin' Under Fire 4:20
9 Action! Not Words 3:52
10 Billy's Got A Gun 5:27
CUSTOMER REVIEW
While High N' Dry took Def Leppard from being a standard British rock band who were fans of Zeppelin, Thin Lizzy and the 70's Glam scene they grew up with and a debut album lumped into the NWOBHM scene they neither fitted easily or wanted to be associated with, Pyromania launched the band to a whole new level of both artistic integrity and popularity. Whilst High N' Dry had them competing with contemporaries like AC/DC, Thin Lizzy, Gillan, Billy Squier and Judas Priest, Pyromania had them facing the emerging arena rock bands from the States like Motley Crue, Van Halen & Whitesnake as well as pop artists like Madonna, Duran Duran and Michael Jackson. Such was the huge leap in Def Leppards rise from young wannabe's to one of the biggest rocks acts of the time (little did they know that in another 4 years they would even surpass this and literally become the biggest band in the world).

The songs on Pyromania were written to within an inch of their life. There was no room for filler and with producer Mutt Lange back on board, they made a decision to appease the AC/DC crowd but infringe upon the hooks and production tricks utilised on Thriller. And they nailed it.

Not without a few niggles along the way. Guitarist and strong riff writer Pete Willis was shown the door; both band and producer fed up with carrying the weight of an antagonistic personality made worse by alcohol issues. They knew they were about to hit the big time and didn't want anyone scuppering their plans. Whilst Willis can be heard throughout the album and is credited on four of the ten tracks, the band hired Phil Collen, an exceptional guitarist with a keen ear for melody and pop hooks to replace him. Whilst Def Leppard had always had a twin guitar line-up with no clear lead player, they now had two lead guitarists with very different styles which complimented each other wonderfully. Phil's first job was to solo on Stagefright and it's his first take that's on the album.

Every track is good enough to be a single. Too Late For Love, Die Hard The Hunter and Foolin' go for the epic, Rock Of Ages, Billy's Got A Gun and Rock Rock (Till You Drop) go for the melodic edge aimed at the MTV generation. However it was Photograph which was head and shoulders above anything else on this record and practically everything else on the radio in 1983. A track that at once became the highpoint of their live show and has hardly been absent since. Coupled with a great video (for the time), Photograph and a remixed Bringin' On The Heartbreak ensured Def Leppard remained in rock fans minds, sights and ears over the four years it took to come up with a follow up.

For many, Pyromania remains the high point of a career with many high points but for the band a big low point was just around the corner.

The Deluxe Edition has a crisper sound and launches itself from your speakers. The main reason for getting this though is the second disc containing an LA gig from 1983. Whilst Viva Hysteria and Mirrorball have shown DL as still great musicians producing well polished shows, this is them raw, hungry and loud. This live CD deserves it's own release as it's nothing short of proof that even before Hysteria and Rick Allens tragic accident, Def Leppard were the best band on the planet. Truth!