---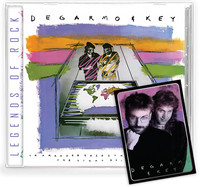 Sale
We strongly encourage you to purchase hassle-free low cost insurance for your order at checkout. It will cover your entire order against damage, not just this item. Insurance does not cover lost packages or delays by the carrier. 
Remastered
High-Quality Expanded Booklet with photos and lyrics
Jewel Case CD

Special Print LTD Collectors

 

Trading Card #87

2022 Girder Records,

 

GR1134

Originally Release in

 

1987
Legends of Rock™ Edition

Release Date:

 

May 20, 2022
Description
This Girder Records Legends of Rock™ release come in a jewel case with multi-page booklet insert that includes readable lyrics, photos, liner notes. It also comes with a special LTD edition collectors trading card sealed inside, limited to only the first pressing. It's been fully remastered by Rob Colwell (Bombworks Sound). 
COMMANDER SOZO AND THE CHARGE OF THE LIGHT BRIGADE was released in 1985 with one of the longest names in in Christian Rock history but was also accompanied with one of the longest tenures an album has sat on Christian charts.  Songs Destin to Win and Casual Christian (both on this release) were the top two most requested songs from the band. Destin to Win was a duo with the great Jesse Dixon and made its way into the ears of every Christian radio station listener not to mention onto every D&K best of album made, History Makers, The Very Best Of, Greatest Hits Vol. 1, The Classic Rock Collection and even on Rock Solid Absolutely Live. 
By the time this album came out in the mid '80s they had developed a throbbing, edgier sound embracing a specific style of synth-driven new wave which had been popular in the early '80s. This works particularly well on opening cuts "Active" and "Competition" which romp along nicely without succumbing to the band's other American bombastic rock of the era. It's all throbbing synths, clunky '80s drums and Dana Key's edgy guitars but it has its own charm. There are lighter moments of course and the band's usual spiritual concerns are aired so you get apathy tackled on "Charge Of The Light Brigade" and "No More Goodbyes" reminds believers about the realities of Heaven. The return of Jesus is celebrated in phased, spaced out fashion on "Jesus Is Coming". But the absolute standout track here is "Destined To Win" where the band team up with gospel artist Jessy Dixon for a rousing inspirational moment wrapped around an immense hooky chorus. Worth hearing the album just for that song!
Tracks
1 Activate (3:51)
2 Competition (3:49)
3 Temporary Things (3:44)
4 Apathy Alert (3:45)
5 Charge Of The Light Brigade (3:53)
6 Destined To Win (3:27)
7 No More Goodbyes (3:55)
8 Rise Up (3:19)
9 Jesus Is Coming (3:47)
10 Casual Christian (4:07)