---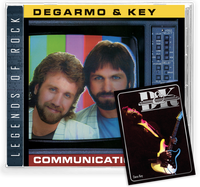 We strongly encourage you to purchase hassle-free low cost insurance for your order at checkout. It will cover your entire order against damage, not just this item. Insurance does not cover lost packages or delays by the carrier. 
Remastered
High-Quality Expanded

 

12 Page Booklet

 

with photos and lyrics
Jewel Case CD

Special Print LTD Collectors

 

Trading Card #89

2022 Girder Records,

 

GR1133

Originally Release in

 

1984
Legends of Rock™ Edition

Release Date:

 

May 20, 2022
UPC:

 

763416070080
Description
This Girder Records Legends of Rock™ release come in a jewel case with multi-page booklet insert that includes readable lyrics, photos, liner notes. It also comes with a special LTD edition collectors trading card sealed inside, limited to only the first pressing.  
Communication released in 1984 and was an exhilarating experience as they became the first Christian group to have a music video appear on MTV. The video "Six, Six,Six", became the first song to be placed in MTV's regular rotation. The video was pulled due to violent content. MTV had misinterpreted the song "Six, Six, Six" as an anti-Christian statement. Executive Sandra Sparrow was unaware that DeGarmo & Key were a Christian band when she included the video in a list of videos to be banned. MTV allowed them to submit a re-edited version without the Antichrist being set on fire. I'm not sure if it's even possible to not like the song SIX SIX SIX after that experience.  
Tracks
1  Are You Ready 3:20
2  Rejoice 3:36
3  It's A Shame 3:28
4  Alleluia, Christ Is Coming 2:49
5  Everyday's A Celebration 2:47
6  Blessed Messiah 3:49
7  Perfect Reflection 3:48
8  He Has Risen 2:52
9  Six, Six, Six 3:53
10  Man Of His Word 3:49
11  Dear Friend 1:44