---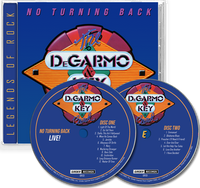 DeGarmo and Key - No Turning Back Live (Double Disc CD) 2022 GIRDER RECORDS (Legends of Rock) Remastered

We strongly encourage you to purchase hassle-free low cost insurance for your order at checkout. It will cover your entire order against damage, not just this item. Insurance does not cover lost packages or delays by the carrier.

Double Disc (Jewel Case 2CD)
Remastered
High-Quality Expanded

 

12 Page Booklet

 

with photos and lyrics

2022 Girder Records,

 

GR1131

Originally Release in

 

1982
Legends of Rock™ Edition

Release Date: APRIL 15, 2022
UPC:

 

763416070172
Description
This Girder Records Legends of Rock™ release comes in a jewel case with a 12 page booklet insert that includes readable lyrics, photos, liner notes and a two-disc set.
Degarmo & Key Band were a tour de force, known primarily for their unique Southern-flavored rock in the early years. With two albums of excellent progressive/classic rock and an album of memorable jazz-styled mainstream rock under their belts, they decided to capture their live energy and release a double live album. No Turning Back is considered one of the best live albums in CCM.  
Live albums in the 1980s had a tendency to sound overly polished. Shows were recorded and then overdubs would clean up any weaknesses to the point you did not know what was live and what was embellished in the studio. When I listen to No Turning Back, I hear a convincing live album. It does not come across as polished as Bob Seeger's Nine Tonight or as flawless as Rush's Exit Stage Left. No Turning has the mark of authenticity written all over it.
Beginning with a couple stadium rockers Light of the World and Go Tell Them, the band sound in their element. The Hammond organ and synthesizers are mixed so well with what is guitar-driven AOR. Bands such as Prodigal, Petra, and Servant also incorporated keys in their sound, but none packed the wallop in the Southern-fried rock tradition as effortlessly and competently as DeGarmo & Key did.
Taking it down to mid-tempo, Stella, This Ain't Hollywood and When He Comes Back manifest a sophisticated Steely Dan/later Doobie Brothers-inspired sound their previous album was known for. These tracks are followed up with three older classics off their first couple albums. Jericho flaunts some tasty blues guitar ala early ZZ Top. On both Alleyways of Strife and Mary, Dana Key trades his electric guitar for an acoustic for their more reflective material. Within the entire catalog of CCM, I dare you to find a more heart-felt and dynamic rock ballad than Mary.
Moving along, the band pulls no stops and adds their own unique Southern blues spin to the traditional folk hymn, Wayfaring Stranger. The improv interplay between Ed DeGarmo's keyboard work and Dana Key's electric blues soloing is the stuff that brings angels to weep. Utterly satisfying! Following that is a show-stopping bass solo which positions itself both complex and entertaining. Before the audience has a chance to catch their breath, DeGarmo throws down the keys on Enchiridon, an instrumental piece that rivals in beauty anything Keith Emerson ever committed to tape. This flows into Long Distance Runner, a rousing number guaranteed to get the limbs moving. Then, Matter of Time, a new song that could have easily fit on This Ain't Hollywood, relays the message…
            "If you need a miracle, if you need a sign, Look and see how He's
             changed my life. I know someday you'll change your mind. It's a            
             matter of time."
Next up, Emmanuel is a progressive rocker from This Time Thru with over four minutes of extending jamming. One of the captivating highlights of a live album is the fun jam excursions that can bring new vitality to familiar songs. Another extended jam is found later in the set with Let Him Help You Today, a four minute number on Straight On, which evolves into a nine minute jam.
The next two, Oklahoma Blues and Preacher (I'll Need A Friend), are exclusive to this album. The former is a robust blues jam, appropriately titled since the album was recorded in two Oklahoma locations. Preacher rides out slow and heavy, waxing rhetorically from the perspective of one who feels helpless about the direction of their life. This is a vastly overlooked cut that deserves to be revisited.
After a few more upbeat numbers, Dana Key talks for close to four and a half minutes. Not every touring Christian band gave talks, and some bands could have benefitted from thinking more critically about their message content. DeGarmo & Key were known for their no-nonsense exhortations. The message contained on this album is exemplary of that. With an invitation to follow Jesus, the album closes in the traditional I Have Decided, Dana Key singing and playing acoustic guitar and the other band members singing harmonies in the background. This is the perfect album closer.
It is hard to believe No Turning Back came out 40 years ago. It was a formative album of its time. Now it has been remastered for an even fuller sound by the seasoned Rob Cowell. With lyrics and extra photos in an expanded booklet, this is a stellar live album from beginning to end, and a highly unique one in its Memphis-styled blues-rock. --Doug Peterson, Down The Line zine
Tracks
DISC ONE
1.  Light Of The World  3:58
2.  Go Tell Them  3:52
3.  Stella, This Ain't Hollywood  3:21
4.  When He Comes Back  3:01
5.  Jericho  4:44
6.  Alleyways Of Strife  4:06
7.  Mary  2:54
8.  Wayfaring Stranger  3:40
9.  Bass Solo  3:00
10.  Enchiridion  1:50
11.  Long Distance Runner  4:30
12.  Matter Of Time  4:55


DISC TWO
1.  Emmanuel  7:27
2.  Oklahoma Blues  6:08
3.  Preacher (I'll Need A Friend)  5:56
4.  Over And Over  3:45
5.  Let Him Help You Today  9:25
6.  Love One Another  3:50
7.  I Have Decided  3:20
Credits
Produced by Eddie DeGarmo, Dana Key & Dan Brock


Dana Key: Lead Vocals, Electric & Acoustic Guitars
Eddie DeGarmo: Keyboards & Vocals
Greg Morrow: Drums
Tommy Cathey: Bass & Vocals
Tony Pilcher: Guitar & Vocals

Concerts recorded live on November 6 & 7, 1981 at the Mabee Center, Tulsa, OK
& Putnam City West Auditorium, Oklahoma City, OK

Concert Production by Darlene Brock, Creative Concerts
Mobile Recording by Reelsound Recording, Co.—Austin, TX
Recording Crew: Mason Harlow, Paul Stutz
Engineer: Malcolm H. Harper, Jr.
Mixed by Eddie DeGarmo, Dana Key, & Dan Brock at Ardent Recording—Memphis, TN
Mix Engineers: Chris Taylor, Eddie DeGarmo, Dana Key

Concert Sound Provided by Shekinah Sound Company—Memphis, TN
Concert Lighting Provided by Bandit Lites—Knoxville, TN

Art Direction/Design: Bill Brunt / P.E.S.
Live Photography: Vernon L. Gowdy III
Cover Illustration: Tracy Britt

LEGENDS OF ROCK EDITION
Executive Producer: Greg Hays
Remastered by Rob Colwell @ Bombworks Sound
Layout & Design by Scott Waters @ NoLifeTilMetal

Thanks to our friends and family for making this record possible. Thanks to Rock for his incredible support.
Special thanks to the Lord for His grace and patience. We dedicate this album to the memory of Lewis Willis.