---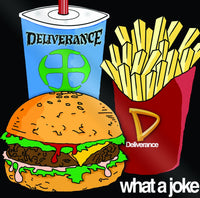 2011 Intense Millennium remastered reissue.
After the near-perfect thrash metal assault of Weapons Of Our Warfare, Deliverance took a bit of a left turn with What a Joke. This somewhat misunderstood album is the result of creative differences in the band beginning to manifest, but resulted in some of the most unique and interesting work in the band s catalog. Where before the songs were all serious subject matter and thrash played to perfection, What a Joke saw the band taking themselves and their music a bit less seriously, showing the fun side of metal and taking on topics that could be handled with more humor and still get the message across. Classics like It s the Beat and Purgatory Sandwich With Mustard see Jimmy and company tackling topics other bands may have seen as taboo, thus, this album remains an important piece in the Deliverance catalog.
Contains both new and original cover artwork
Track Listings
Disc: 1
1. Intro
2. Prophet of idiocy
3. Pseudo intellectual
4. Cheeseburger maker do
5. What a joke
6. Chipped beef
7. After forever
8. Its the beat
9. A product of society
10. Happy star
11. J.P.D.
12. Pray
13. Silent night
14. J.I.G.
15. Purgatory sandwich with mustard
16. Attack
17. Strings of sorrow (Bonus track)