---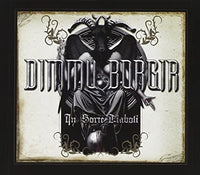 DIMMU BORGIR - ON SORTE DIABOLI- LIMITED EDITION DIGIPAK (*Pre-owned CD + DVD Set,, 2007, Nuclear Blast ) Black Metal
Well cared for minor wear on sleeve, disk like new and complete
This special edition digipak includes a bonus DVD which features a music video, Making-Of the video and Making-Of the album featurette.
Symphonic black metal band from Jessheim, Norway, founded in 1993 by Shagrath (Stian Thoresen), Erkekjetter Silenoz (Sven Kopperud) and Tjodalv (Ian Åkesson).

Band took its name from an Icelandic name "Dimmuborgir", which stands for "dark castle/fortress". It is a type of lava formation near Lake Myvatn in Iceland, and according to local legends, a gateway to Hell/Underworld.

Early on in their career Dimmu Borgir started to push the boundaries of the black metal genre with extensive use of keyboards and by incorporating orchestral/symphonic elements in their music. Since the release of their breakthrough album "Enthrone Darkness Triumphant" in 1997 they have become one of the biggest extreme metal bands worldwide.
Track Listing
1 The Serpentine Offering
2 The Chosen Legacy
3 The Conspiracy Unfolds
4 The Ancestral Fever
5 The Sacrilegious Scorn
6 The Fallen Arsis
7 The Sinister Awakening
8 The Fundamental Alienation
9 The Invaluable Darkness
10 The Foreshadowing Furnace