---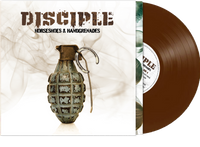 Sale
Disciple - Horseshoes and Handgrenades (Vinyl) Limited Run Shrapnel Brown Vinyl
FIRST TIME ON VINYL
Shrapnel Brown
Official Licensed Released from INO/Fairtrade
Heavyweight Audiophile Pressing
Limited Run Vinyl™

12"x12" Printed Inner Sleeve with Lyrics
Release Date: APRIL 8, 2022
Girder Records
Product ID: GR1103LP
UPC: 

 

763416069732
Horseshoes and Handgrenades

Riding on the success of their Southern Hospitality album/tour, Disciple bunkered down in the studio for over a year, put out a worthy 36 songs on the chopping block, and ended up with twelve superior tracks. Guitarist Brad Noah stepped down from his call of duty and Micah Sannan was recruited to the ranks as axeman extraordinaire and songwriter. Disciple also turned a new corner with the enlistment of Rob Hawkins (of Starfield) on the production helm.
With mounting pressure on frontman/singer Kevin Young and the remaining members to keep their boat afloat, they toured resiliently with Thousand Foot Krutch, Red, Ivoryline, Emery, Project 86, and Kutless, to name a few acts. Dare I say, that boat treaded the waves rather well.        
Horseshoes & Handgrenades is aptly titled by the fact there are tracks both rollicking and playful, like a good game of horseshoes, as well as ones that are explosive and ready to rip your face off. Dear X (You Don't Own Me) is of the horseshoe variety with its accessible yet driven sound, and 21 weeks on the charts is nothing to sneeze at. Followed up by the hard-edged Watch It Burn, this one features previous guitarist Brad Noah laying down his distinctive metallic riffage. The Ballad of Saint Augustine continues with a generous amount of crunch and speed, followed by the southern-flavored rocker Shot Heard Round the World. Without a doubt, Battle Lines is the track that pulls the pen from the grenade on this project with its manic guitar assault and rapid-fire drumming. Another definitive number is Deafening, a melodic anthem with the collaboration of Stellar Kart and Kutless members. The orchestrated Worth the Pain closes the album with a heart-clenching edgy ballad par excellence. 
Available now on Shrapnel Brown Colored Vinyl with a printed inner sleeve containing lyrics, this is hands down the definitive Disciple album to turn up to 11.
--Doug Peterson, Down The Line zine