---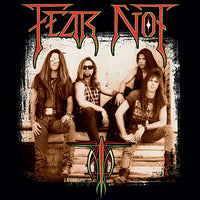 FEAR NOT - FEAR NOT (*NEW-CD, 2017, Roxx Records)
Roxx Records is very excited to announce our next Limited Edition reissue of the much sought after debut release from US rockers FEAR NOT!
That's right one of the long, lost out of print titles that has never seen a proper reissue, original CD copies are very scarce to find these days, if you can find one at all!
We will be pressing 500 copies on limited edition CD featuring all 10 original tracks and 2 brand new previously unreleased tracks on CD! Packaged in a jewel case with a beautiful 8 page booklet with lyrics and a special interview with Larry Worley, lead vocalist of Fear Not.
CD Track Listing:
1. Give It Up
2. We Have A God
3. Mr, Compromise
4. Till The End Of My Days
5. Suicide Sunshine
6. Money Money
7. Easy Come Easy Go
8. There Is Love
9. Mad World
10. Take Hold
11. You Got Love (Bonus Track 2017)*
12. Love Is Alright (Bonus Track 2017)**
* previously released digital only on
the Liberty n Justice EP ?Life Songs?
** previously unreleased track recorded
for this 25th anniversary release