---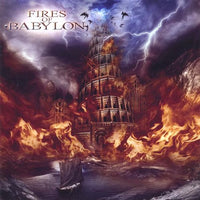 FIRES OF BABYLON - FIRES OF BABYLON (*NEW-CD, 2009, Retroactive Records) Rob Rock
For fans of Rob Rock solo CDs, Impellitteri and fast paced melodic metal with killer vocals!
Debut album from newly formed American heavy metal band "Fires of Babylon". The line up includes vocal titan Rob Rock ("Impellitteri", "Driver", ex "Joshua") guitarist Lou St Paul, ex "Death" bass player Kelly Conlon and Robert Falzano (Ex "Annihilator").

"Fires of Babylon" Have definitely put out a scorching debut as this is definitely one of the heaviest releases to feature Rob Rock. If one was to specify this project in terms of sound this probably stands closer to Rob's solo albums with an obvious "thrash metal" flavor.

With the exception of "Falling to pieces" (a truly majestic song where desperation is personified in Rob's voice) and "Revolution Coming" the album is ultra heavy yet unfortunately unmelodic. There is nothing wrong with being very heavy, this is called after all "Fires of Babylon", still the heavier an album is the more it cries out for melodies to balance the sound therefore making it more colorful to the ears of the listener.

Furthermore the choruses are nowhere as explosive as we have come to expect from Rock; clearly one has to consider that the musicians involved in this project share very different backgrounds; Rob being Hard Rock/ Metal oriented, Kelly leans towards Death metal while St Paul clearly comes from a more modern Metal background. And truthfully it is quite difficult to balance all these influences on a single CD.
Tracklist
Falling To Pieces 4:49
Devilution 5:12
When The Kingdom Comes 4:23
Lake Of Fire 4:49
Holy Resurrection 4:21
Going Through Changes 4:28
Lazarus Rising 5:27
Revolution Coming 4:47
Generation Of Destruction 4:26
Castles Are Burning 5:09