---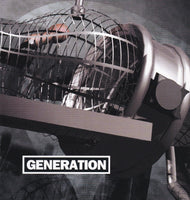 Sale
GENERATION - BRUTAL REALITY (*NEW-CD, 1993, Metal Blade Records) Bruce Franklin of Trouble!
BRUTAL REALITY is the full length debut by American Industrial/Thrash Metal band Generation lead by Bruce Franklin of Trouble, CD issued in 1993 by Metal Blade Records.
ABOUT THE ALBUM
1993 was a critical year of transition and change for the music world. Mariah Carey and multiple boy bands replaced melodic rock and metal bands at the top of the radio charts. And, instead of blockbuster albums by established 80's rockers, we were stuck with grunge/alternative taking over and giving us bands like Gin Blossoms, Spin Doctors, and Soul Asylum (booo!!!). Hard music fans needed HELP, and they needed it FAST! No one could have anticipated how much Generation's Brutal Reality would strike a chord in the hearts of a generation of metal fans feeling alone, ignored, and left behind. It was modern. It was metal. It was abrasive, and it seemed like something that would come off a futuristic Blade Runner movie soundtrack! Generation Brutal Reality was birthed into existence in 1993 on Wonderland & Metal Blade Records. Fans were rendered speechless with a full album of pioneering and cutting edge heavy, technical industrial metal of the highest order; featuring the talents of Randy Kerkman (Mission of Mercy) and Bruce Franklin (of the epic, historic metal doomsters, TROUBLE). Elevating Brutal Reality is the uplifting and thought-provoking Christian themes in their lyrics, establishing the album as a certified agro-industrial classic recommended for fans of Ministry, NIN, Circle Of Dust and Chatterbox.  Almost 30 years later, the album sounds and feels as relevant as ever. Grab your copy now. Trust us, resistance is futile.
Track listing is 1. Alive 04:10 2. Retro~Vision 00:53 3. Believe In Miracles 03:38 4. I Live in Flesh 05:01 5. Revolutionism 03:34 6. Nothing to Give 04:06 7. Rm. 101 00:38 8. Still You Died 03:57 9. Chemikill 04:38 10. Hunger 04:52 11. Psalm 69 (Hidden Track) 04:23
For fans of Metal Thrash and Industrial like Circle of Dust, Ministry, and NIN!