---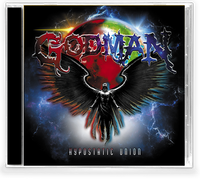 Sale
GODMAN - HYPOSTATIC UNION (*NEW-CD, 2020, Bombworks Records) Jonathan Johnson of Sacred Warrior and Deny the Fallen 
***12 page booklet in a jewel case
Track Listing
RESET
LAST MAN STANDING
EFFIGY
ILLUMINATI
WHO I AM
DARK NIGHT OF THE SOUL
END OF MY DAYS
THE RESCUE
BABYLON
ABOUT THE ALBUM
Godman is the musical union of 2 well known, veteran musicians in the Christian metal world- Tiago James de Souza (Hand of Fire, Perpetual Paranoia & Biogenesis) and Jonathan Johnson (Sacred Warrior, Deny The Fallen). Rounding out the lineup is Corey Sturgill the former drummer for Universal/ Republic recording artists FLAW. Though Jonathan and Tiago are known for their previous work and trademark sounds, Godman is a completely unique entity with a sound unlike anything either have done before. Extremely heavy and powerful and nearly impossible to define. Drawing on both writer's massive assortment of influences, this is a no holds barred barrage of intensity, wrapped in a blanket of melody and groove. Somehow completely modern and classic simultaneously. It is rare in this day-and-age to find something in heavy music that sounds like nothing else. Godman does just that - while feeling completely familiar at the same time. Produced by Jonathan Johnson, Godman's debut album Hypostatic Union on Bombworks Records has an extremely high end, modern production that compliments the sheer power of this band. This musical union is already taking the heavy music world by storm. The vocals and progressive metal bring to mind thrash legends, Believer, while the sheer heaviness and technical tenacity will appeal to fans of Origin, Godflesh, Soilwork, Shadows Fall, and Suffocation. 
Thoughts from DELIVERANCE frontman, Jimmy P. Brown II
GODMAN
So, anyone who knows me knows I honestly don't listen to metal often. I know it sounds like a funny statement given my reputation. I've been called many labels,  (most of which cannot be in print) but the honorifics that I have seen and been called by my peers and critics alike such as: "a founder of the Christian thrash/speed metal scene," "The Godfather of Christian Speed Metal," "The David Bowie of Heavy Metal," to name a few... But the titles all include a music style, that while I performed and wrote that style, it Is not my go to in daily listening of music...
That being said...
When I do listen to heavy or hard music, I am very discriminating. It's not that I think I am better or anything like that, it's just that there has to be an appeal to me. Something that calls or beckons me to listen... And, in the heavy metal realm, there are simply very few that do... So when I am asked "did you hear the new so and so, or what do you think of so and so" I rarely have an answer... Because I simply don't listen to much hard music except for a few...
I put on the GODMAN album, and from the first note struck on the guitar, I immediately thought to myself "great, another low tuned modern metal album! I doubt I'll make it past the first 3 songs..."
I was wrong...
The song RESET sets the tone of album... But, before I go any further, the thing that captivated me the most was the production! Truly outstanding with skillfully carved out Sonics that allow you to feel the force and brutality of the heaviness, without beating you over the head! You can hear every note and cymbal nuance. And the vocals sit in the mix extremely well! Not too loud, but not buried! And clear as day...
So going on... I was intrigued by the time signatures and writing style. I am huge fan of Meshugah for their timing and brutal vocalist who makes you feel what he's attempting to relay to you... That is the same feeling I get here... Except that Jonathan Johnson can sing man! I didn't know this... Exceptional choice in style and arrangements and nothing predictable happening here, which made it a more exciting listen as I continued to do so...
I was very impressed with the amount of harmonies and how, though heavy the music is melodious! Guitar work is polished and tight along with song structures! Nothing sounds rushed about this production at all...
Guitar solo work is exceptional! No overplaying, but well balanced and very intelligently executed!
If you haven't given this record a spin, it is an absolute must! It's original, modern and non-mechanical while being very technical...
Again, I'm not a regular die-hard listener to metal, but I I'll be giving record a spin in my rotation for sure...
Standout tracks:
RESET / ILLUMINATI / DARK NIGHT OF THE SOUL & THE RESCUE