---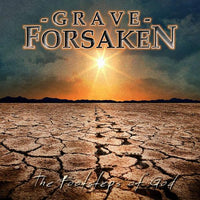 GRAVE FORSAKEN - THE FOOTSTEPS OF GOD (CD, 2020, Soundmass) Thrash attack!!!
2020 Soundmass SM068
Import [Australia]
Jewel Case w/ 8 Page Booklet
The band's early classic metal influences are mixed with their later thrash metal stylings, so there is something for everyone who has enjoyed Grave Forsaken over the course of their 16 years. Everyone knows it wouldn't be Grave Forsaken without prominent Christian themes and catchy metal tunes. Tracks such as "Warriors of the Cross", "Calm in the Storm" and "Temple of Crucifixion" fit the bill perfectly, providing that unmistakable Grave Forsaken sound.
When Grave Forsaken briefly reunited their original line-up in 2018 the plan was to record an album that harkened back to the early recordings. During the making of the album guitarist Elias Salmela made the decision to leave the band, paving the way for Luke Gallagher to return to the fold after a short absence from the line-up. Original Grave Forsaken members Vaughan Gregory, Matt Skipworth and Tim Steadman had recorded their parts when Luke came in and added his rhythm and lead guitar. The result is their impressive new album The Footsteps Of God.
Now shipping!
TRACK LISTING:
Intro (The Footsteps Of God)
One True Way
Judges
Temple Of Crucifixion
The Ruskin Arms
Celebrity Judge And The Sinners Part IV
I Think It's Time
God-Given Strength
Calm In The Storm
Warriors Of The Cross