---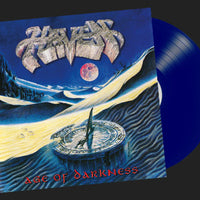 WITH THIS LISTING YOU GET:
1x BLUE VINYL - AGE OF DARKNESS
HAVEN - AGE OF DARKNESS
Artist: Haven
Title: Age of Darkness (Blue vinyl) 
Label: Retroactive Records
RRCD1420 HAVEN - AGE OF DARKNESS (Retroarchives Edition) 8 panel jewel case
Format: CD with 8 panel insert and jewel case
Barcode CD: 651402978956
Product ID CD: RRCD1420
Format: VINYL Jacket with spine and insert - Black (200) and Blue (100)
Barcode VINYL: 0651402979021
Product ID VINYL: RRV1426
Release Date: November 14th, 2017
ABOUT THE ALBUM
1991's Age of Darkness is the second (and final) album from Christian metallers Haven. Before you conjure up images of Stryper, you'd do well to give this one a chance. Where a band like Barren Cross drew its influences from Dio and Iron Maiden, Haven's sound owes more to a certain Seattle sound (no, not that one). I'm talking about bands like Queensryche, Fifth Angel, and Metal Church.
Age of Darkness is a very impressive traditional/power metal album, full of great melodies, shredding guitars, and a Geoff Tate-inspired vocal style. There are a couple instances of Dokken-style balladeering, but for the most part this is a fast paced power metal album that should please fans of Apocrypha, Powersurge, Crimson Glory, and any of the bands mentioned earlier. Haven is a Christian band, but they're not overly "churchy" with their lyrics, so Age of Darkness shouldn't alienate the average metal fan. Believe me; this one's much more likely to induce headbanging than Bible-thumping!
The 2017 reissue of Age of Darkness on Retroactive Records sees this classic album on vinyl for the very first time! We pressed 200 Black Vinyl and 100 Blue Vinyl. Get them while they last! The CD is packaged with an 8 panel insert in a jewel case with lyrics - and we only pressed 500 of them! Both Vinyl and CD have been digitally remastered to perfection by Rob Colwell of Bombworks Sound!
Tracklist
1 Tenacious Volition
2 Divination
3 When You Said Goodbye
4 Holly
5 Exaltation
6 The Witching Hour
7 Seance
8 Spend My Life With You
9 Unchanging Love
10 Blood Of The Lamb
11 Once Upon A Time