---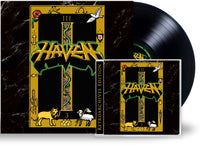 ***PRE-ORDER RELEASE DATE:  May 15th, 2021 
***We strongly encourage you to purchase hassle-free low cost insurance for your order at checkout. It will cover your entire order against damage, not just this item. Insurance does not cover lost packages. 
CD + VINYL BUNDLE
WHAT OTHERS ARE SAYING ABOUT HAVEN III.....

III...finds Haven further reinforcing the progressive elements and achieving the results desired in that I find its material to hold up that much better....
                                                                       Angelic Warlord Reviews

First time ever on vinyl!

Heavy-weight 180-Gram collectors vinyl
Remastered for vinyl (Bombworks Sound)
Includes 12x12 lyrics insert and pics 
Part of the elite Limited Run Vinyl series

Limited to just 200 copies
WHAT OTHERS ARE SAYING ABOUT HAVEN III.....

III...finds Haven further reinforcing the progressive elements and achieving the results desired in that I find its material to hold up that much better....
                                                                       Angelic Warlord Reviews

ABOUT THE ALBUM
Originally released by the band independently in 1995, four years after the sophomore release, Age of Darkness. The album was pieced together by golden throat vocalist, Kevin Ayers as various members of the band were available over the four year period. Also, gone are the million dollar studios and producers that recorded the first two Haven classics. Haven III was recorded on Kevin's home recording studio in his garage in the 90s! In the words of the Supreme Metal Historian, Scott Waters (Ultimatum), Despite the four years between releases, the music has not changed dramatically. As with past albums, however, the lyrics are awesome, although they are a bit more praise oriented rather than some of the more social lyrics of the past. With many tracks clocking in at 6-7 minutes, you know you are in for a tremendous melodic, progressive power metal adventure! This Retroactive Records reissue has been carefully mastered for vinyl by veteran, Rob Colwell (Bombworks Sound), pressed on collector-quality heavy-weight vinyl, and comes with a 12x12 insert with lyrics.  For fans of Sacred Warrior, Iron Maiden, Recon, Queensryche!
**Due to time constraints, the song "When Jesus Light The Way" was left off the vinyl release.  You still get close to 60 minutes of music!

2. "Her Eyes Can't Hide" (1:43)
3. "Falling Down" (4:57)
4. "Her Eyes Can't Hide (Conclusion)" (:05)
5. "Don't Let the Moment Slip Away" (6:36)
6. "Prisoner" (7:09)

SIDE B

7. "I Will Follow" (6:18)
8. "Love From Above" (5:45)
9. "The Almighty" (4:03)
10. "Don't Run Away" (6:21)
11. "Without Excuse" (5:43)

ANGELIC WARLORD REVIEWS

It's here.  The highly anticipated limited edition (500 CD copies) June of 2017 Retroactive Records re-issue of the third Haven album, appropriately entitled III.  At last, III has been professionally re-mastered (courtesy of Rob Colwell Of Bombworks Sound) to give it a much needed and longer overdue sonic facelift.  Originally released independently by the band in 1995, III in its initial form suffered from (to put it lightly) production misgivings, which attributes to it being recorded over a four year period in the garage studio of vocalist and founding member Kevin Ayers.  Over the years, I always identified with III, released in follow up to the groups 1991 sophomore effort Age Of Darkness and 1990 debut Your Dying Day (both R.E.X. Music), as solid musically, but I did not always listen to it often as I might have due to said production issues.  This, however, has been rectified with the Retroactive re-issue, with said re-mastering leading to the more polished sound in which bass stands out further in the mix, guitars deliver added punch and drums come across in the crisper and cleaner manner.
Improved packaging is another benefit to the re-issue.  It begins with the enhanced cover art (courtesy of Scott Waters at No Life Til Metal), which instead of the plain back and white to the original has been expanded to include a black marble background along with a gold 'Haven' logo and green highlighting to further bring out the details.  The re-issue also comes in the jewel case format with a 4-panel insert featuring detailed liner notes in complementary gold, green and white fonts.
I always regarded Your Dying Day as one of the top Christian metal albums of the nineties, noting how I ranked it twentieth in an article I wrote several years ago outlining what (in my opinion) are the top 50 albums released the decade in question.  The Angelic Warlord review (85%) described Your Dying Day as, 'straightforward US power metal - rawer and heavier than some with guitars and drums the centerpiece of the mix - interlaced with occasional classic and melodic metal overtones'.  The album, furthermore, '(brought) a professionalism that belies the groups age (most of the Haven members at the time were a year or two out of high school) with each of the Your Dying Day tracks bringing the necessary hook, riff or melody certain to draw you in with repeat listen'.   
Age Of Darkness found Haven instilling its power metal propensities with stronger leanings towards the progressive.  The upshot was a work that (again, my opinion) was more technical and intricate but also less interesting.  Enter III, which finds Haven further reinforcing the progressive elements and achieving the results desired in that I find its material to hold up that much better in comparison to Age Of Darkness.  Perhaps it is due to the musical maturity that comes with age and experience, but III presents with a 'best of both worlds' scenario in giving prominence to the consistency that made Your Dying Day such a solid release while successfully incorporating its new progressive attributes.
Groups seven-minute opening signature track "Haven" is a good indicator to this.  The song begins its first minute instrumentally in hard-hitting fashion before calming to reticent bass and affable guitars for its more reserved opening verses.  As impetus builds back to a heavier direction, guitars move to a prominent position in impelling the emotionally charged 'you'll always be my Haven' refrain.  Back and forth and back and forth again time signatures the rest of the way with the lone changed the instrumental interlude carried by smoothly flowing guitar.
Subsequent piece "Her Eyes Can't Hide" takes a shorter (1:43) interlude role in propelled by acoustic guitar.
"Falling Down" heads in a melodic direction while not backing from the innate Haven heaviness.  The song launches at once to forwardly placed guitars, with its remaining distance balancing a thick and weighty low end with more delicate tinges that hint of understated but distinguished melody.  It also gives prominence to the soaring vocal abilities of Ayers, who bestows his signature gutsy and middle-register imbued with distinct emotion delivery.  One reviewer that suggested his vocals are 'engorged with soul' had the right idea.
"Her Eyes Can't Hide (Conclusion)" ensues in taking a similar truncated (50 seconds) acoustic direction.
"Don't Let The Moment Slip Away" comes across in the form of a progressive semi-ballad.  The song maneuvers the better part of its length touching upon the forlorn, with collected bass and easy-going guitars carrying the gentle way and only picking up impetus when heavier rhythm guitars briefly punch into the mix.  I cannot help but be reminded of early Jacobs Dream.
"Prisoner", albums second track in the seven-minute range, starts nonchalantly in stilly done fashion only to take off at once as starker rhythm guitars abruptly power into the mix.  A galloping riff mentality asserts itself moving forward, with verses congenial and affable, and refrain effortlessly flowing to ample doses of layered vocal melodies.  Lead guitarist Carlos Cintron nails an extended stretch of agile soloing.
"I Will Follow" stands out as one of the albums lighter and more reserved pieces.  With its delicate and buoyant demeanor, the song slowly drifts its distance to tempered bass all the while playing up gentle melody (refrain comes across wistful in its direct but concise approach).  A faint classic rock quality comes to the forefront in the process, as can be found in the bluesy soloing that adorns the instrumental moments.
On "Love From Above" Haven further explores the progressive side to its songwriting.  Time signatures prevail throughout, starting with the serene acoustic based opening but also including sluggish guitar driven moments that reach for the doom-like and contrasting milder passages that embody a composed and soothing feel.  Highlight, however, might be the instrumental passage featuring albums best stretch of pointed lead guitar.
"When Jesus Lights The Way", albums longest at seven and a half minutes, represents a driving progressive hard rocker.  The song allows guitars to lead the forthright way from the get go, plowing and mauling through its intricately woven verses with abandon but not reaching its placidly flowing refrain until three and a half minutes in.  The instrumental interlude ensuing at four proves a literal shred fest of blistering duel lead guitar.  By far the albums best song (in my opinion) with its needed front to back guitar impetus. 
"The Almighty" delivers a concise (4:03) straight on metal sound.  The song powers its length at an impellent mid-paced tempo, no-nonsense in focus but also moderately melodic (if not slightly worshipful) as Ayers stretches and reveals the full breadth to his soulful delivery.  If anything, this one reflects upon the direction Haven took during Your Dying Day.
"Don't Run Away" proves another mid-paced heavy hitter.  The song jump-starts at once with guitars forwardly placed in the mix, bluntly rolling forward to a ton of low-end momentum in making by far the albums most pronounced groove driven statement.  Credit Ayers concise drum work accordingly.  Yes, he takes on a near 'one man band' role on III in also handling bass, electric, acoustic and classic guitars (Cintron and Andrew Bruner handle lead guitar).
Haven closes III in reflective fashion to "Without Excuses".  The song slowly maneuvers acoustically from the beginning, eerily plodding as ethereal guitar harmonies periodically dance in the backdrop.  At three and a half minutes, however, "Without Excuses" makes an abrupt transition towards a foreboding direction as caustic guitars step forward to bolster the disconsolate scene.  Desolate soloing closes out the final seconds to one of the albums more creative tracks.
The Retroactive re-issue also includes a bonus track entitled "From Everlasting" that is the least Haven-like of the songs here.  In no way do I say this to denigrate in that the song makes a cool industrial metal statement with (what sounds like) programmed drums and overriding dance groove throughout.  Yes, different and a bit unexpected but good nonetheless, which leads to the question at hand: I wonder if Haven might have pursued such a direction if it had recorded a fourth album?
Song titles such as "Love From Above" and "The Almighty" leave little doubt as to where Haven is coming from lyrically.  Former draws inspiration from Romans 5:8:
Everything becomes new
Old things pass away
We are the chosen few
He makes a way for us
If we trust through His blood
Saved by His grace
To find this love so true as we begin to pray
Latter reveals a worshipful slant:
Oh Holy are You
Love oh so true
Oh Great I Am
Mystery shrouds Your every move
The story proves Your oh so true
Lord of Lords
King of Kings
Creator of everything
"I Will Follow" espouses upon doing exactly that:
In Christ is life everlasting
Saviour of souls
Sacrificial Lamb
The Great I Am
Prince of Peace
Mighty Counselor
Heavenly Father
Creator of Man
Take my hand and don't let go
I will follow…
"Without Excuse" talks about finding God in creation:
Look at the nature
Set in motion
Trees alive and birds that fill the skies
All the fish that fill the ocean
Beasts of the earth
The proof is all around and before you
Without excuse you cannot run and hide
The Judge will surely call upon you
To give account
Without the Blood you'll die
Your Dying Day is one of those albums that have stayed dear to my heart in that each of its ten songs nails it.  Lone complaint is the somewhat thin production, which ended up rectified by the re-mastering to the Retroactive re-issue from 2012.  III follows a similar pattern in that the Retroactive re-mastering also presents with a significant sonic upgrade.  Musically, III might stray further into progressive territory in comparison but also captures much of the consistency to Your Dying Day at the same time.  I particularly appreciate how Haven extends eight of the 13 III tracks out to six to seven minutes, but unlike Age Of Darkness comes across that much more compelling musically in the process.  If back in the day you missed III or ended up turned off by its production, then make the Retroactive re-issue a necessary purchase.
Review by Andrew Rockwell
Track Listing: "Haven" (6:45), "Her Eyes Can't Hide" (1:43), "Falling Down" (4:57), "Her Eyes Can't Hide (Conclusion)" (:050), "Don't Let The Moment Slip Away" (6:36), "Prisoner" (7:09), "I Will Follow" (6:18), "Love From Above" (5:45), "Jesus Lights The Way" (7:32), "The Almighty" (4:03), "Don't Run Away" (6:21), "Without Excuse" (5:43), "From Everlasting" (5:28)
Musicians
Kevin Ayers - Lead Vocals, Guitars, Bass & Drums
Carlos Cintron - Lead Guitar
Andrew Bruner - Guitars
John Farrell - Guitars
Edward Bruner - Guitars
Michael Cintron - Bass