---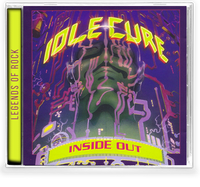 IDLE CURE - INSIDE OUT (*NEW, 2019, Girder) Remastered
Release Date, Jan 2020
2019 Legends of Rock
Remastered and Reloaded with Lyrics and Photos
6 page fold-out in a Jewel Case
For Fans of Christian Rock, Arena Rock, Def Leppard, Whitesnake, Van Halen, Whiteheart, Angelica, Fighter and Shout
If you need only one album to prove skeptics of Christian Rock wrong, this is it. Inside out was the 4th album from IDLE CURE originally released in 1991 and was lyrically and musically one of their best.  It's also never been released on vinyl.  If you like ear-candy arena rock bands like Def Leppard, Foreigner and Journey this is for you.  Catchy hooks, insane guitar work and over the top production and songs with feeling and emotion. Holy Mountain was a charting radio hit #6 on the charts.  The entire album has depth and feeling.  Rockin songs like WE LOST GROUND starts off with some really cool bluesy slide guitar and then just blows your speakers about 30 sec in.  Mind Games and the last song Tear Down the Walls are also insane rockers.  All 10 songs from start to finish hit you right between the eyes and tear down any thought you had that Christian bands weren't as good as mainstream bands. 
All five IDLE CURE albums have been remastered and will come packaged in a jewel case with 6 panel fold-out.  Get ready to crank the volume. Maybe you have seen it - but Idle Cure's picture is in the dictionary for "ear candy" for a reason. Sweet harmonies, slick production, razor sharp guitars, huge hooks, and spot on vocals are enhanced beyond perfection.  Get these classic reissues while you can and you'll also enjoy the bonus song BREAK OUT OF THE NIGHT. More on that below.

Idle Cure was an arena rock band from southern California and was similar to bands such as Def Leppard, Foreigner, Loverboy, Night Ranger, Journey, Shout, Degarmo and Key and Whiteheart.

Before the famous self-titled album IDLE CURE dropped in 1986, Chuck King (guitarist) and Mark Ambrose (guitarist) and Steve Shannon (vocals) were in a band called EDEN. The band recorded a hit song, "Break out of the Night" for the Back to The Rock #2 compilation in 1983. That song was written by Roger Charles.  The beginnings of Idle Cure actually started with Roger's band SOJOURN back in 1979, and included Mark Ambrose and Steve Shannon.  Eden recorded their first songs in the John Elefante Studio. Mark Ambrose led John Elefante to the Lord.  When Sojourn (pre-Eden) went on tour and their current guitarist couldn't travel with them, they asked Chuck King (who went on to play with Shout) to play guitar. Sojourn fell apart. Chuck and Roger Charles stayed together and started the band Eden. The singer couldn't sing the high notes, so Roger Charles called Steve Shannon at 10pm that night and Steve came over and recorded the song for the Back to the Rock #2 compilation. It was the only song ever recorded by the band and is now included as the 10th song on this album.Idle Cure was born. 

In 1986, Idle Cure launched their self-titled album on the then newly formed Frontline Records. The response was both remarkable, and immediate. "Breakaway" was a runaway hit on major Christian Rock radio stations and could have fit perfectly on Def Leppard's Pyromania album.  All the members played in previous mainstream bands which explains why they were able to build that arena rock sound.

By 1990 Idle Cure was dominating rock radio with their more produced second album TOUGH LOVE (1988) but scored big with "Pray" a stadium rocker from their quasi metal album 2ND AVENUE (1990). It was the #1 song for the entire year. INSIDE OUT was recorded in 1991. ECLIPSE (1994) was the bands last album but it's also their heaviest loaded with guitar solos. It absolutely Eclipses their previous releases without abandoning their signature rockin' sound. Eclipse is amazing performance by a legendary group. If you've never this one, it's probably because it was released independently in 1994 with little to no distribution. It starts right off with "What's Your Point of View" a little bit of AC/DC guitar vibe and then smacks you in the face with that rockin' Idle Cure thunderous sound. It's tough, it's bad, it's scream, it's hot.
We've Lost Ground
Who Cries for Me
Holy Mountain
Mind Games
Redline
Innocent Again
I Will Hold On
Where Is the Love
Higher We Climb
Tear Down the Walls