---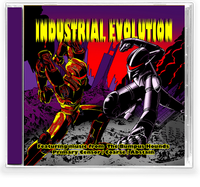 Sale
INDUSTRIAL EVOLUTION (*NEW-CD, 2020, Retroactive) Rare 90's Industrial Metal featuring Wally Shaw (Deitiphobia) & Oatmeal (Red Ink)  

*Primary Censor features the involvement and talents of the mainstream industrial metal band SKREW! 

*Featuring Brent Stackhouse (X-Propogation) and Wally Shaw (Deitiphobia) as well as Oatmeal (Red Ink)

*70 Minutes Disc 1 / 30 minutes Disc 2
DISC 1 (70 minutes):
THE BUMPUS HOUNDS - THE PIT DUG FOR THE WICKED (1990)
1. World Ends
2. Blind Hate
3. Temple
4. Thrown Away
5. Sanctuary
6. Sanctuary (Instrumental)
7. Thrown Away (X-Propagation ReTool)

PRIMARY CENSOR - FESTERING WOUND (1992)
8. JudgeMental
9. False
10. Negative
11. Splinter

PRIMARY CENSOR - ORPHIC (1994)
12. Arsen
13. See
14. Silence
PRIMARY CENSOR - PRIMARY CENSOR (1992)
15. Intro
16. Subtly
17. Circle
18. Artificial Heart
19. Silence
20. JudgeMental

DISC 2: (30 minutes)
COARSE (1997)
1. Quiet

ABSTAIN - LOFI LOTECH (1997)
2. Release
3. Control
4. Whispers
5. Neuroplasticity
6. Recollections
7. Isolationism
8. Osmosis
9. IndyAnna
At Retroactive Records, we are in love with the 90's industrial-metal of bands like Circle of Dust, Brainchild, Klank, Chatterbox, Ministry, and Nine Inch Nails.  When we came across the Bumpus Hounds demo, we could hardly contain ourselves.  How had this industrial-metal treasure stayed so obscure that none of us had even heard of it?  How could music this good have flown completely under our radars for almost 30 years?  And, lastly – how could we correct this grave injustice?  We found Eric Shirey on Facebook, and found out that there was more than just the infamous Bumpus Hounds – the band went on to produce Primary Censor, Abstain, and Coarse. We scrubbed planet earth and the next six galaxies to find digital and physical copies of the music that ended up on this 2-CD Set called INDUSTRIAL EVOLUTION. One band evolved into another band, that evolved into another, etc.   Read on to learn the complete story.
The Bumpus Hounds was a collaboration between Eric Shirey and Neil "Oatmeal" Thompson from Houston, TX-based death metal band Red Ink. Eric wrote most of the lyrics and provided vocals. Neil wrote and programmed the music and some lyrics. "The Pit Dug for the Wicked" was recorded on a Tascam 4-Track Recorder in the Austin, TX apartment of Noise Priest singer Stephen Wagers (aka Stig Stench) in 1992. Wally Shaw of Deitiphobia and Massivivid produced the EP. He also gave the duo a song he wrote for his side project, Icon Tack, to round out the recording. Shaw did a cameo as his rap persona, MC White E, on the track "Temple." Stephen also did guest vocals on the same song. Eric eeked out his vocals and Neil tracked all the guitars and bass in one weekend. The EP was originally distributed on cassette through mail order and only on blank tapes handmade by Eric or Neil.
"Thrown Away (X-Propagation Mix)" was a reworking of the song off The Bumpus Hounds' EP. Originally put together as a sort of template of where Eric Shirey wanted to go musically with his next project, all the programming and keyboards were arranged by Brent Stackhouse of Deitiphobia and X-Propagation based on the original music Neil wrote. It was recorded and produced by Stackhouse in his home studio. There was interest from Michael Knott for his label Blonde Vinyl, but it went under shortly after this was recorded in 1993. Eric wrote a new verse for the song to give it a more positive conclusion at Brent's suggestion. This CD is the first time the song has ever been released to the public.
Primary Censor was an award-winning Austin, TX industrial metal band formed by Eric Shirey shortly after the project with Brent Stackhouse fell through. It was made up of drummer Stuart Lillard, guitarist Matt Wright, keyboard programmer and bassist Chris Spoonts, keyboardist Brett Landis, and second drummer Jay No. The band was heavily tied into the burdgeoning Texas Industrial music scene in Austin, which was growing at the time because Al Jourgensen and Ministry had just moved into town.
Primary Censor's "Self-Titled" demo is the earliest recordings of the band. It was laid down on a Tascam 4-Track Recorder in one day at Drummer Stuart Lillard's church in Austin, TX.
"Festering Wound" was Primary Censor's first real recordings. They were laid down in the home studio of bassist, keyboard programmer, and engineer Chris Spoonts. He had a Pro Tools set up and soundproofed rooms he named Rotate Sound Productions. The results were four tracks that were definitely more guitar-heavy than the band would end up being. Drum sounds and some different samples were taken from the sound library of Auschwitz 46's keyboardist, Jason Janssen. 
The group's next demo, now known as "Orphic," was really never officially titled.  It was recorded at Music Lab, where ex-drummer of SKREW Mark Dufour was an engineer. Dufour took the controls and drums and extra programming were provided by Jim Vollentine, who was the keyboardist for SKREW. What was crafted this time around was a much more even and dynamic blend of metal guitars and the pulsing electro sounds of darkwave and cyberpunk outfits of the time.
The last three Primary Censor songs which are presented here for the first time on CD were shopped to R.E.X. Music, who showed interest in the band. Unfortunately, nothing ever transpired. The band broke up shortly after the demos were submitted in 1993.
Fast-forward a few years to about 1996 and Eric Shirey and Matt Wright come out of their self-imposed musical exiles to work on two different solo projects. Flaming Fish Records came knocking looking for some new music for their compilation, Full Frontal Lobotomy. Both Eric Shirey and Matt Wright were asked to contribute songs.
Eric began work on a track entitled, "Quiet," under the moniker Coarse. Musically, it was a bit more pop-structured. However, it still had an edge thanks to heavy chugging guitar riffs. The keyboards were slightly brighter in sound, thanks to the handiwork of Richie Laxton. Laxton created dance pop more at home with the likes of Erasure or A-ha. Although all the basic music was written by Shirey, Matt Wright was called in to lay down guitar for the recording and Laxton provided all the electronics and drums. Lyrics were written by Shirey and concentrated on his cry for help to God. The song was recorded at Richie's studio, Snooty Fox Productions in Austin, TX.
Meanwhile, Matt Wright was working on his own solo project he called Abstain. Abstain was similar in style to Primary Censor and was recorded at his home studio. It's no surprise that the finished songs for Abstain had the same tone as his previous band, since he really provided the trademark "sound" they were known for. Wright began carving out five tracks for an EP and gave one to Flaming Fish for the Full Frontal Lobotomy compilation. Lyrically, his Christian faith was reflected quite heavily. The other demo tracks are being released for the first time to the public on "Industrial Evolution." They're much more experimental and electronic-based, with no lyrics or guitar.
Why is this collection of songs from this certain group of artists entitled "Industrial Evolution?" Well, Eric looks at the project as a journey from an angry youth ranting about social and mental issues to an older and wiser young adult who was not only using music as a way to vent, but hopefully to provide answers to someone's problems. Looking back after 20+ years, the music still stands on its own and will no doubt thrill fans of industrial and metal both old and new. Most of the material is still relevant next to what is being released today by artists like Klank, Circle of Dust, Ministry, and the likes.
All this to say that hopefully Industrial Evolution will finally make it into the hands of those who always wanted copies of The Bumpus Hounds, Primary Censor, Coarse, or Abstain's music. Sonically, it was all taken off of cassettes which, many times, were over 20 years old and found in the collection of friends who had it stashed away somewhere. None of the members (except Neil Thompson and Chris Spoonts) even had copies of the masters. Hopefully, you can hear through all the aging defects and enjoy the experience.