---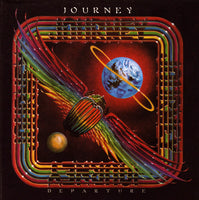 Journey ‎– Departure +2 bonus (*NEW-CD, Legacy Edition) Remastered / Jewel Case Edition
Tracklist
Any Way You Want It 3:21
Walks Like A Lady 3:16
Someday Soon 3:32
People And Places 5:04
Precious Time 4:48
Where Were You 2:59
I'm Cryin' 3:42
Line Of Fire 3:04
Departure 0:38
Good Morning Girl 1:43
Stay Awhile 2:48
Homemade Love 2:53
Departure is the name of Journey's sixth album. It was released in March 1980 on the Columbia Records label.

Departure would be the band's highest charting album to date, giving Journey their first appearance in the top 10 of the Billboard album charts, peaking at #8. The album includes "Any Way You Want It", the lead off track and top 25 single.

The album featured an edgier sound, thanks partly to the "live in studio" way the songs were recorded.[3] The band went into The Automatt studio with 19 tracks, eventually trimming down to 12.

The album would mark the last studio appearance of founding member Gregg Rolie. He had become tired of life on the road and decided to leave the band after assisting in the selection of his replacement, Jonathan Cain, then of The Babys. Rolie sang lead vocals on only one song on Departure— the ballad "Someday Soon".

The Departure Tour was one of the first Journey shows to feature pyrotechnics, as a measure before the line "That gunshot echoed through the town" on the song Line of Fire, a burst of fire came through either side of the stage.