---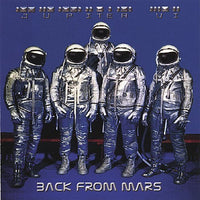 JUPITER VI - BACK FROM MARS (*NEW-CD, 2006, Retroactive Records) 
VERY LAST COPIES OF ORIGINAL PRESSING!!!!
BRILLIANT 70's Glam Rock!!!  
2007 Customer Review
Jimmy Brown is best known as the frontman for the metal band Deliverance. The band split up when Brown's musical direction started changing. Several of his more recent projects reflect growth toward something very different.

With Back From Mars it is most certainly a clean break from the Jimmy Brown we remember. Wearing his David Bowie/Mott the Hoople/space/glam/classic rock influences squarely on his sleeve, we are offered genuinely hooky rock songs fueled by a load of flashy, chunky guitars, Brit/Lydon/Bowie/Ian Hunter vocals with lyrics that have the world view of DA circa The Alarma Chronicles. In fact, they cover "Through the Speakers" along with the Kinks "All the Day and All Through the Night" with amazing energy and urgency.

Thematically this is a look at today's society as if for the first time-with eyes wide open; hardly believing what they see. You know immediately that something important is being said here. There is a sense that this grouping of songs will stand up to many listenings and still call you back for more. Something deep, something stimulating. We haven't experienced that in a while.
 Tracklist
1 Back From Mars
2 The Human Endeavor
3 Mimes XIII.II
4 Corporate Stiff
5 From Here Till Ever
6 Passions
7 In A World Of...
8 All Day And All Of The Night
9 Through The Speakers (Alien Synth Mix)
10 Lucidia
11 Brand New Day
12 Zurich Von Mars