---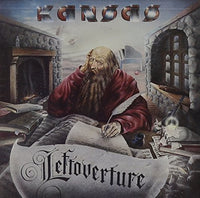 1 Carry on Wayward Son
2 The Wall
3 What's on My Mind
4 Miracles Out of Nowhere
5 Opus Insert
6 Questions of My Childhood
7 Cheyenne Anthem
8 Magnum Opus: Father Padilla Meets the Perfect Gnat / Howling at the Moon / Man Overboard / Industry on Parade / Release the Beavers / Gnat Attack
9 Carry on Wayward Son (live bonus)
10 Cheyenne Anthem (live bonus) 

CUSTOMER REVIEW
This is a great album from 1976 that shows Kansas bridging the gap between their excellent prog rock epics and the shorter hard rock tracks. The result is a collection of extremely tight and intricately arranged pieces (Magnum Opus is incredible in this regard) that feature the nimble ensemble work that characterized their proggiest material, yet are presented in a more cohesive format. Gone too are the shorter "boogie rock" pieces, resulting in a very balanced and proggy sounding album. In short, Leftoverture is an exceptionally fine example of progressive hard rock and shows Kansas starting to mature their sound.

All of the band members were in top form on this album and Kerry Livgren (guitars, piano, clavinet, and synthesizers) was positively on fire - in fact he contributed most of the material, including one of my favorite Kansas compositions (Cheyenne Anthem). I especially like the instrumentation on Leftoverture (and all Kansas albums for that matter), which includes nice Hammond organ and tasteful use of synthesizers (ARP, Moog, and Oberheim synths), along with the electrifying sound of heavily distorted electric guitars courtesy of Rich Williams and Kerry (the acoustic guitar work by Rich is also very nice too). There is also the fantastic rhythm section of Phil Ehart (drums/percussion) and thunderous bassist Dave Hope - Dave provides some nice counterpoint and together they give the tracks a proggy punch. Last but not least, I also appreciate the vocals - Steve Walsh (lead/backing vocals; Hammond organ; piano; synthesizers; vibes) can really belt out and Robby Steinhardt (lead and backing vocals; violin/violas) is no slouch either.

The remastering on this CD is very good and features extensive liner notes, crystal clear sound reproduction (this was a well-produced record to start with), along with photos of the band and a few bonus tracks including live versions of the smash hit Carry on Wayward Son and my favorite, Cheyenne Anthem. 

This is a great album of progressive hard rock by Kansas that features some of their most focused songwriting and arranging. Combined with the superb musicianship that the band was (and is) known for, Leftoverture makes for a very enjoyable listening experience. Very highly recommended along with Kansas (1974); Song for America (1975); and Point of Know Return (1977). For those folks that are discovering this style of music for the first time, the albums Farewell to Kings (1977) and Hemispheres (1978) by the Canadian band Rush might also prove to be of interest.