---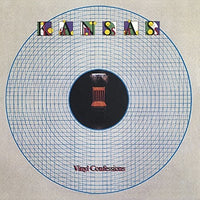 KANSAS - VINYL CONFESSIONS (*NEW-CD, 2016, Music on CD) Remastered Classic featuring John Elefante and Kerry Livgren

1 Play the Game Tonight
2 Right Away
3 Fair Exchange
4 Chasing Shadows
5 Diamonds and Pearls
6 Face It
7 Windows
8 Borderline
9 Play on
10 Crossfire

CUSTOMER REVIEW
Vinyl Confessions was the first Kansas album I ever heard. We had it recorded onto a cassette (which I still have, but it's been recorded over for years). I suppose nostalgia hit me and I wanted to revisit Vinyl Confessions, so I decided to purchase it. An underrated album (in my opinion), I would say it's my favorite Kansas album, probably because I love eighties music and it was my intro to the group. I like all the songs and there's not a bad one here. My favorites are "Right Away," "Fair Exchange," "Chasing Shadows," and "Crossfire." Many reviews of this album talk about Kansas having a Christian slant here, and, according to the liner notes in the album, John Elefante confirms this as the reason why Steve Walsh left the group. As a Christian myself, I never thought about that too much, but it's there, like in "Diamonds and Pearls," where they talk about how the things of this world that we see as precious and valuable will ultimately fade away. This album was remastered in 2011 with new liner notes. The only difference here for me was the order of the songs, which my brother rearranged when he recorded it back in the eighties, with "Cross Fire" (shouldn't that be one word - Crossfire?) opening the album and "Play the Game Tonight," closing it. I would have appreciated it if the lyrics were included. They went to the trouble of giving us new liner notes and I love reading those, but I also would have appreciated the lyrics to all the songs. Still, that doesn't affect my enjoyment or rating of this album. If you like Kansas and eighties music, then pick this one up.