---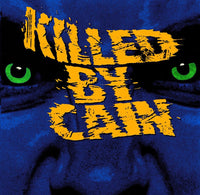 KILLED BY CAIN - KILLED BY CAIN (180 Gram-VINYL, 2017, Retroactive)
Artist: KILLED BY CAIN
Title: KILLED BY CAIN
Vinyl Product ID: RRV1437
Vinyl Barcode: 656165850532
CD Product ID: RRCD1437
CD Barcode: 656165850549
Label: Retroactive Records: From the Vaults Limited Edition
Format: CD (6 panel jewel case) Vinyl 180 Gram (150 Black 180 gram)
Release Date: November 21, 2017
ABOUT THE ALBUM
#1 in a series to be released called "FROM THE VAULT" (Retroactive Records) featuring basic packaging similar to the Roxx Records Underground Series.
This Louisville, KY band started out as the infamous 80?s classic metal band, Whiteray that released 4 highly sought after demos! By 1993 they had signed with R.E.X. Records and changed their name to KILLED BY CAIN. Featuring a much more aggressive metal sound with distinctive Metallica meets G?n R-styled vocals and killer heavy metal more in line with the thrashing grooves of 90?s Megadeth. Listen for the album's producer Dale Thompson's (Bride, The World Will Burn) signature screams in 'Sin City', and 'Introduction to Hyprocrisy'. Bassist Steve Curtsinger went on to play on several Bride albums as well as releasing a hard music masterpiece with the band, Zoobabies. KILLED BY CAIN is full on metallic anger and rage at it's finest. The music is hard, and the message is socially relevant even in 2017! In all seriousness, this is the album Metallica should have made after the Black album! These songs sound like they could have been the follow up to Guns ?n Roses Use Your Illusions! For fans of Metallica, Bride, Tourniquet (Vanishing Lessons era), Guns ?n Roses, Motorhead! The 2017 Retroactive Records reissue of this album comes fully remastered by Rob Colwell (Bombworks Sound) on CD (limited to 300 copies) and Vinyl (limited to 150 copies of 180 Gram). The Vinyl release is the first release on the new Retroactive Records ?From the Vaults? vinyl series all limited to 150 copies or less!
Tracklist
1 Intro To Hypocrisy
2 Burn The Church
3 Violence
4 Thou Shalt Not Kill
5 Gasoline
6 Jezebel
7 Father
8 Sin City
9 Walk The Line
10 Gun Control
ANGELIC WARLORD REVIEW
When it comes to genre classification I like to keep things simple as possible by using the ?duck test?: if it looks like a duck, swims like a duck, and quacks like a duck, then it probably is a duck. So I am sure we can all agree that any band combining prodigious double bass with choir vocals and classical keyboards must be symphonic power metal, right? Likewise, it is not out of line to suggest those that use too much Aqua Net and dress in spandex fall within the hair metal category, while others that place emphasis on lengthy songwriting and numerous time and tempo changed deserve a progressive label. Where things get problematic, however, is when dealing with bands that cross numerous style boundaries and blend multiple forms of hard music. How do you categorize, for instance, a band with a propensity to also crash like a rhino (thrash metal?), wallow like a pig (doom metal?), strut like a peacock (glam metal?) and sprint like a gazelle (speed metal?) all at the same time and/or in one form or another?
Hence, the conundrum in finding the most accurate manner in which to classify Killed By Cain. The Louisville, Kentucky based act got its start playing eighties melodic metal, as Whiteray and recording four highly sought after demos, prior to signing an early nineties deal with R.E.X. Records and adopting a moniker better in line with its newfound aggressive musical direction, Killed By Cain. By aggressive I am referring to how Killed By Cain upped its heaviness overall by amalgamating manifold forms of metal, including large doses of thrash and groove backed by equal portions of that on the straightforward and even doom side of things. Oh, but wait there?s more: since the bands 1993 R.E.X. self-titled debut was produced by Bride front man Dale Thompson, it is also reflective of some bluesy hard rock nuances in including several songs that would not sound out of place on Bride?s iconic 1991 release Kinetic Faith. After deliberating over the matter, I decided to affix the all-encompassing label of ?metal/hard rock? on Killed By Cain from how it is not only all over the map stylistically but also successfully does so many different things in so many different ways.
As with many albums from the early nineties, Killed By Cain is long of print and a hard to find collectors item. Enter Retroactive Records and its fall of 2017 re-mastering (courtesy of Rob Colwell of Bombworks Sound) and re-issue of Killed By Cain on CD (limited to 300 copies) and vinyl (150 copies). Whereas the album did not sound bad in its original form - I am surprised there has not been more demand over the years for Dale Thompson as a producer - re-mastering brings it up to modern standards with marked improvement found in increased volume levels, enhanced low end and cleaner and more polished sound overall.
Any band embracing the diversity of Killed By Cain requires a vocalist that can pull off such varied styles and such is what we have in John Warren. On one hand, he embodies a similar type of course and lower-register angst as James Hetfield (Metallica), but on the other, he also reflects the bluesy heart and soul distinctive to Axl Rose (Guns N? Roses) or Dale Thompson (Bride). It adds up to a powerful and dynamic performance from Warren that regardless of the musical twists and turns the band takes, he sounds comfortably at home.
Two part opening cut ?Intro To Hypocrisy? and ?Burn The Church? finds him in top form. Former is a one minute spoken word piece based around Matthew 25:31-46: ?When I was hungry, did you feed me? When I was naked, did you clothe me? When I was thirsty, did you give me something to drink?? It goes on to provide an up to date take on a similar theme: ?Abortion clinics offend me; the hungry, the poor offend me; the naked, the homeless offend me, etc?.
Latter reveals the doom like side to Killed By Cain, with its plodding, mid-tempo length driven by trenchant guitars and the mournful if not forlorn ambience to match. Warren takes opportunity to reveal the lower side to his delivery as he unleashes equal parts raspy growls and intense emotion that makes the music that much more real (either way).
Upping tempo is ?Violence?, a straight on classic metal piece combining a flair for the biting and acerbic with some light power metal lacings (again, noting the Killed By Cain diversity) courtesy of keyed up timekeeper Stephen Roland. The caustic ?Violence, gotta? make money? refrain delivers a ton of fitting, lower register groove. Of equal note is the blinding lead guitar of Tony Bowling.
?Thou Shalt Not Kill? begins to a guitar rhythm nearly identical to that of classic Deliverance cut ?Stay Of Execution? (off the album of the same name from 1992), but at just the moment you expect Jimmy P. Brown?s somber classic tenor to appear, Warren takes over with his trademark gritty rasp. The song, otherwise, touches upon similar up-tempo straightforward metal flavorings as ?Violence? but with a bluesy essence to guitars, referencing the influence to the Dale Thompson production.
?Gasoline? starts to an ominous bass solo from Steve Curtsinger, whom would later go on to perform with Thompson in Bride. The song proceeds to slowly grow and build, revealing itself as a riff laden monster characterized by an assault of ?chugga-chugga? thrash like riffs and refrain of an every bit curtly done variety. Biting things to smoother harmonies carry things instrumentally.
?Jezebel? is the first of several songs over the albums second half to take a bluesy hard rock stance. With grooving bass and hook driven guitars leading the way, the song sets a heavy hitting tone as Warren lends some apt blues heartfelt soul to his varied delivery. Every bit forthcoming is the occasional hint of cowbell in the backdrop.
Stoner-doom-groove masterpiece ?Father? in my opinion represents albums best track. The song begins to a leisurely drum solo prior to treading its remaining distance to the type of sluggish pace befitting all things doom but does not forsake melody along the way, as in the infectious groove that rises to the surface. A strong instrumental aptitude helps carry it out to five satisfying minute.
Back to blues based territory ?Sin City?, an acoustic laced number reminiscent to Bride?s ?Hired Gun? (off the as noted Kinetic Faith). The acoustic guitar at the onset cannot help but remind you of the classic ?Hired Gun? line ?I hope you and Jesus have it all worked out?, but the kicker are the grainy guitars that soon step in and, of course, the bluesy twang to the vocals (I would not be surprised if Warren took vocal lessons from Thompson). Metal? Doom? Thrash? Hard Rock? Killed By Cain covers it all!
?Walk The Line? also delivers a bluesy groove, this time not unlike Kinetic Faith track ?Love On The Mountain?. This one, however, is more hard rock as opposed to acoustic, as tempo remains rollicking, and guitars dig with the more consistent front to back bite in comparison. Interestingly, the song makes a tempo change at the end to guitars that almost reflect a thrash like quality with shouted gang vocals in the background.
Album closes strongly to the high energy ?Gun Control?. The song fades in to guitar feedback prior to taking off at a near speed metal tempo, setting a near frenetic tone its distance to scratchy (and very fitting) vocals, impertinent riffs and an all out relentless assault of a refrain. After several bluesy tracks, it is good to hear things close in such aggressive fashion.
Lyrics are decidedly Christian but with a current events feel (almost like today?s front-page news despite the band composing them over twenty years ago). Consider ?Gun Control? in this capacity -
AK47 in the hands of a murderous man
Selling guns to the homicidal
Slaughterous killing machine
He?ll look you in the eye when he pulls the trigger
Fill your body full of lead
You say you got rights
Ask the innocent dead
Irreproachable victims dying everywhere
- and ?Violence? as well:
Skin heads, KKK, white supremacy
Human rights, bigotry, exercise the Nazi
No fear of God, no fear of man
No peace found in diplomats
Drug money dripping with blood
Poetic justice is a heavy gun
Jesus said love your neighbor as yourself
Do for others as I would do for myself
?Thou Shalt Not Kill? is an anti abortion song:
I see dead babies lying on the kill floor.
Thou shalt not kill.
Freedom of choice, freedom to burn.
Thou shalt not kill
Government has crawled into the womb, then they wash their hands too soon.
Thou shalt not kill.
It is murder 'cause they can't see, no matter the lies that you want to believe.
Thou shalt not kill,
?Burn The Church? draws upon I Corinthians 3:11-15:
The spirit is willing, but the flesh is weak,
Lord, give me the strength,
Ask and it shall be given, seek and you will find,
Lay it down, it will be open.
What profit - a man who gains the world but loses his soul within the wink of an eye?
Lies your decision, if you wait until tomorrow you'll surely die.
Add you may want to ask yourself, "If I died today, where would I go?
What do I believe in? Do I owe myself that much time?"
Killed By Cain equates to a consistent albeit musically varied release. No, nothing I skip over in that at a minimum all its tracks are good, with my favorites encompassing ?Father?, ?Violence?, ?Gasoline? and ?Sin City?. Upshot is also how the group is all over the map stylistically, which reflects not only its versatility but also leads to challenges in terms of classification: Doom? Thrash? Traditional metal? Bluesy hard rock? Answer is all of the above. That said, I wish the group had followed up with at least one more album in which it focused on at the most two different hard music forms- it would have been interesting to hear what results might have been achieved.
For those that overlooked Killed By Cain back in the day and/or are fans of the numerous genres represented, the Retroactive re-issue comes highly recommended. If like me and own an original copy - I enjoyed revisiting the album after not listening to it for an extended period - then I encourage you to strongly consider the Retroactive re-issue with its improved re-mastering. Vinyl version to the album, of course, is icing on the cake.
Review by Andrew Rockwell
Track Listing: ?Intro To Hypocrisy? (:54), ?Burn The Church? (3:09),?Violence? (3:46), ?Thou Shalt Not Kill? (3:48), ?Gasoline? (4:12), ?Jezebel? (3:15), ?Father? (4:47), ?Sin City? (3:30), ?Walk The Line? (3:58), ?Gun Control? (3:50)
Musicians
John Warren - Lead Vocals
Tony Bowling - Guitars
Steve Curtsinger - Bass
Stephen Roland - Drums
Additional Musicians
Dale Thompson - Vocals
Derek Jan - Guitars