---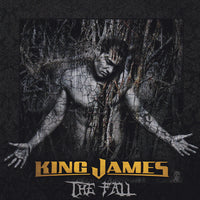 NEW CD
OUT OF PRINT, WE FOUND ABOUT 6 MORE COPIES...GOING...GOING....
Tracklist
1 The Fall
2 Never Is Forever
3 Frenzy
4 Swing Of The Street
5 Spreading Of Love
6 Pale Beyond The Door
7 The Calling
8 A Vision
9 Borrowed Time
10 Heaven Is For Everyone
CUSTOMER REVIEW
I got this and the original version more for the sake of adding to the collection than anything else. The remaster makes the songs sound better, and clearer. It's a great album that upon it's first release in 1995, came out during an era where the word "metal" was a bad word in the music scene. Also it's a chance for both Whitecross and Stryper fans see their Christian hardrock heros collaborate on musically powerful release. The project of Whitecross guitarist Rex Carrol, and Stryper (then recently disbanded) drummer Robert Sweet & Bassist Time Gains joined forces on this one.