---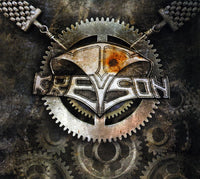 KREYSON - 20 YEARS OF KREYSON (*NEW-CD, 2009, Retroactive) Rare Czech Christian Metal! 
8 panel digipak
Classic Kreyson tracks were selected and re-recorded during 2009

A longtime fixture in the Czech heavy metal scene, this album offers re-recordings of the band's own favorites, which serves as an excellent introduction to many outside their home country just beginning to discover them. Melodic yet full of power, polished yet true as steel, Kreyson is the epitome of heavy metal class.
TRACK LISTING: 1. Judgement Day 2. Cursing and Crying 3. Ten 4. Cry Out 5. The Lord Will Come 6. Mary 7. Parable 8. Stay 9. Endure the Night 10. Warrior Angel 11. Salome