---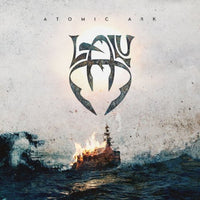 Lalu ‎– Atomic Ark (*NEW-CD, 2013) All-star Prog Metal featuring members of Dream Theater/Planet X, Symphony X
Tracklist
1 Greed 4:05
2 War On Animals 3:26
3 Tatonka 4:01
4 Mirror Prison 2:26
5 Deep Blue 3:29
6 Bast 4:04
7 Momento 3:40
8 Follow The Line 3:51
9 Slaughtered 3:13
Revelations
Music By – Jordan Rudess, Viv*
(19:29)
10-1 Part I - Storm
10-2 Part II - Haunted Memory
10-3 Part III - The Big Hunt
10-4 Part IV - Sick Of Your Lies
10-5 Part V - Call To Arms
CUSTOMER REVIEW
In my humble opinion, it is 2nd best prog metal release of 2013 after Dream Theater's.
The band's main man is keyboardist and composer Vivien Lalu that managed to assemble a crew of excellent all-stars musicians from Dream Theater, Symphony X, DGM, Planet X, etc.
The music is a muscular well-arranged prog metal with excellent vocal from the voice of legendary German trash sympho metallers Mekong Delta. Keyboards play significant role in the music palette, but do not dominate giving enough room for guitars and vocal.
The closest stylistic comparison may be Symphony X, but Lalu is very far from being a clone.
The album is melodic and heavy enough to appeal to fans of symphonic metal, but prog metal fans will also find a lot to enjoy about it. The best track on the album is a prog metal epic that starts with piano rhapsody played by Lalu and Jordan Rudess, and then develops into prog metal mini-opera.
Highly recommended!