---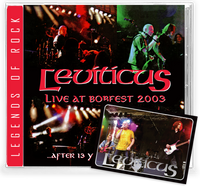 Includes LTD Trading Card

CD Limited to 300 copies

8 Page Booklet in Jewel Case, w/ Lyrics & Photos
CD Release Date: Nov. 12, 2021
Remastered from Original Sources
Part of the Legends of Rock Series
2021 Girder Records (GR1108)
Five albums from 80's Christian metal legends, Leviticus, I Shall Conquer, The Strongest Power, Setting Fire To the Earth, Knights of Heaven, and Live At Bobfest have been completely remastered for CD (from original sources) by Rob Colwell of Bombworks Sound. All of them come in a 8 page booklet with lyrics, photos and credits (Layout by Scott Waters (NoLife'TilMetal) Limited to just 500 copies each. 

Leviticus
Leviticus could sure school the current generation of metal fans a few things, starting with the longevity that goes hand in hand with creating quality art that has stood the test of time.  Leviticus interweaved a foundation of melodic metal with tendencies towards power metal with I Shall Conquer, The Strongest Power and Setting Fire to the Earth along with some brilliant AOR moments with Knights of Heaven, thanks to John and Dino Elefante, to only be topped off with one of the best live performances ever (yeah, I just said that) Live at BobFest, which has none of what we all hated about live albums. More on that later.
 Let's back up a moment! 
Unlike the USA, not a lot of Christian Heavy Metal came out of Sweden. There have been a few bands, most notably Blindside, Crimson Moonlight, Divinefire, Jerusalem, Narnia, Pantokrator, Veni Domine, XT and of course Leviticus founded by Björn Stigsson, Håkan Andersson and Kjell Andersson in the early 80′s. 
LEVITICUS amassed a huge following in Europe but attracted a much smaller following among Christian headbangers in America who had to scramble to find their products pre-internet. Thankfully, their albums were released in the United States on labels such as Pure Metal, Refuge, Spectra, and Solid Rock. 
LEVITICUS – LIVE AT BOBFEST
In 2003, 13 years later, the band released the album, Live at Bobfest. Thankfully Live at Bobfest gives you all the things you want in a live performance and none of the things you don't and just might be one of the best live albums you have ever set your ears to.  Live albums are not popular for three main reasons.  The audio quality is nowhere near the level and quality of studio albums, the singer often goes off into different vocal arrangements or lack thereof, which is not what the fans wanna hear, they want to sing along to the same song that they've been singing along to in their car.  The other reason would be all the ad lib and talking between songs and chiding with the crowd.  Without context it's impossible to feel like you were a part of it.  
Leviticus – Live At Bobfest (2003)
Björn Stigsson – All guitars and vocals
Peo Pettersson - Lead vocals and
Niklas Edberger - Keyboards
Kjell Andersson - Drums
Niklas Franklin – Bass
Flames Of Fire
Saved
Messiah
Oh Lord
Majestic In Power
On The Rock
All Is Calm
Born Again
The Suffering Servant
Deborah And Barak
I'm Gonna Rock