---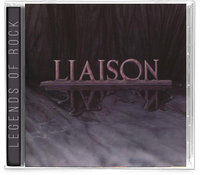 LIAISON - LIAISON: 30th Anniversary Edition (Remastered CD, 2020, Girder) *ARENA ROCK Def Leppard, Allies, Shout, Idle Cure
All 3 Liaison albums have remastered and reloaded. Liaison 30th Anniversary, Urgency and Hard Hitter.
July 10th
Legends of Rock Series
AOR/Melodic Rock Masterpiece
Limited to 500
6 panel fold in Jewel Case
Remastered by Rob Colwell
ABOUT THE ALBUM

Liaison was an arena rock band with big hair that was cast in the same mold as Allies, Def Leppard, Shout, and Idle Cure. Liaison was signed to Frontline by Brian Tong. Bill Baumgart produced the band's first 2 album albums and on Urgency was even listed as a member of the group. Hard Hitter was produced by Tim and Larry Melby. The real core of Liaison, however, were in fact the Melby brothers (Larry and Tim), who grew up in a Christian home in Watford City, North Dakota, where they listened to Phil Keaggy and other contemporary Christian music acts throughout their childhood. The hard rocking 1989 self-titled debut features "You Are His Main Concern" which elevates the near perfect AOR with its metal guitar assault and a tasteful sax solo. On 1991's Urgency, the group attained a grittier sound, rocking even harder than the debut – featuring massive background vocals and an in- your-face gospel message. The song "Friend to the World" incorporates elements of the Beatles' "Eleanor Rigby." The Melbys attain their finest hour on 1992's Hard Hitter, on which they adopt the near-metal hard rock sound of bands like Guardian. Indeed, Tony Palacios plays guitar on the album, along with Oz Fox and Lanny Cordola. "Attitude" and "Violent Burning" encourage believers to remain strong and endure tests that come their way.  The band perfected the AOR sound and dominated the radio charts with six hits off their three albums.  We're pretty sure you'll find a picture of Liaison next to the term "Ear Candy" in Webster's Dictionary. All three albums contain sweet, sweet melodic hits with big choruses, charging guitars, and pitch perfect vocals.  All three albums have been given the "collector's treatment" remastered to perfection by Bombworks Sound's, Rob Colwell, and part of the Legends of Rock series.  We assure you these classics are must-have purchases! Limited to just 500 copies, get yours now. 

Christian radio hits: "Go and Sin No More" (# 9 in 1989); "The Way, The Truth, The Life" (# 5 in 1990); "Free Will" (# 9 in 1991); "Friend to the World" (# 14 in 1992); "Who Can Heal the Pain" (# 4 in 1993); "As Far As the East Is from the West" (# 16 in 1993).
TRACKS
When The Kingdom Comes Down
You Are His Main Concern
Go And Sin No More
Man With A Mission
The Way, The Truth, And Life
Kick It Down
The Light Is On
He Lives
Give Me One Day At A Time
You've Got My Heart In Your Hands