---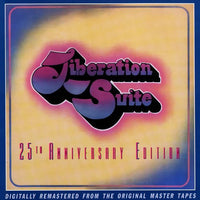 Liberation Suite ‎– Liberation Suite 25th Anniversary Edition (*Pre-Owned CD, 2000, Suite Dreams Records) Classic CCM album
Well cared for
CUSTOMER REVIEW
Liberation Suite originated in Texas playing Gospel music, but although talented no one wanted to record them in the US.
What to do? Unexpectedly they received a Call to go to Northern Ireland, which in the mid 1970s was in the middle of social, political and religous uprest, including bombs and shootings.
There they found many oppertunities to play for young people of all backgrounds and offer real hope to people in turmoil.

Then in late 1974 they went to London to record their self titled debut album, which was released in 1975.
How can I describe their type of sound? A mixture of jazz rock similar to Chicago, harmonies somewhat like The Beach Boys, some country rock and some southern rock not far removed from The Charlie Daniels and Kansas, although without the violins.

All the 9 songs were written by the band with one notable exception, Presence Of The Lord, written by Eric Clapton and it's an improvement on the original!

The opener Led To Roam sets the tone for some fast paced rock played with vigor and commitment, Run Run Lucifer starts more slowly and then gets into a higher gear.
My Lord Is A Remedy is a little slower, then Oh Lord You Know(That I Feel So Fine), More Than A Matter, Hearken and I Wanna Be With You are jazz rock highlights.
Reaching For The Sky is a lovely melodic song of superb quality.

I saw them play twice in 1975, the first time at a church in Maidstone, Kent and then at the Royal Albert Hall in London, when along with Partchment, they supported Larry Norman.
At the earlier gig I got meet the band and was impressed by their down to earth humiilty and faith.

For me this is right up there with Larry Norman's Only Visiting This Planet and Bob Dylan's Slow Train Coming.