---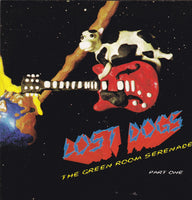 Sale
LOST DOGS - GREEN ROOM SERENADE (*NEW-CD, 1996, BAI) 
Brainstorm Artists International ‎– BRD4030
ABOUT THE ALBUM
The third album by the Christian "supergroup" The Lost Dogs (comprised of lead vocalist Derri Daugherty of The Choir, frontman and all around musical savant Gene Eugene of Adam Again, the eclectic and prolific Terry Taylor of DA and many other bands, and the legendary lead singer/ songwriter Mike Roe of The 77s) was their final album prior to Eugene's passing. After this album with strong country undertones the Dogs would be primarily driven by Taylor and more consistently steep in a country ethos; on this album Eugene gave a healthy dose of creative and developmental input, along with Taylor. The result this time around was that of their most commercial and accessible release. Despite its diversity it still carries a pop sheen and the guys can be heard having a good time.

This album comprises 15 tracks and everyone will have a different favorite. Daugherty's voice, the most distinctive of the bunch, is as sweet as honeysuckle and is the base of their harmonies but, like The Travelling Wilburys, they all trade off on vocal duties. Unfortunately Roe, who is the most vocally versatile of the bunch IMO, isn't represented all that strongly on this album.

A quick sampling of the songs will reveal their diversity: "Up In the Morning" almost feels like a Christmas song with its upbeat tones and harmony, it is bound to improve your mood no matter how black; "Cry Baby" which follows establishes an acerbic mild funk scratch; "Close But No Cigar" has Roe singing a Hawaiian country tune; "Sweet Work of Love" is a driving blues rocker--great song; "Mexico" has a little honky tonk strut to it; "The Prodigal Bride" utilizes the sounds of what was new country at that time (regular country now); "I Don't Love You" is a slow, acoustic, overly sentimental old-school country love song; "Breathe Deep" (which unfortunately may offend some as it sings a list of labeled persons, including "the least of these" and some of "the worst offenders", calling all to "breathe deep the breath of God" and in so doing puts us all in the same category) is pure adult contemporary pop.

This review would be remiss if it didn't at least touch upon the lyrics as this supergroup's members fronted some of the most influential and important alternative Christian artists of the 1980s. Just as there is a variety of musical stylings over and throughout the disc the Dogs draw from spiritual influences (Leonard Cohen's "If It Be Your Will"--BTW, want an absolutely fantastic cover of this song? check out Human Drama "Pin Ups") as well as espousing their convictions to trust the Lord, calling for us to see ourselves with humility ("Breathe Deep"), or the expectation of ultimate transcendence ("Love Takes Over the World"). They also pay homage to influences (Elvis on "Close But No Cigar") and put up songs about relationships, usually fractured, but never too heavy such as on "Hey, You Little Devil".

We never got part two of the Green Room Serenade (named after the recording room that many of these artists used to record their projects). Pity. While not all of it works for me much because of the strong country undertones there is a great deal of variety and diversity, and there are some important songs. And, I think, this is the Dogs' most accessible release.