---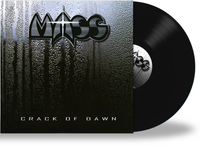 MASS - CRACK OF DAWN (BLACK Vinyl, 2020, NoLifeTilMetal)
RELEASE DATE: September 4, 2020
Black Vinyl Version (Limited to 150 copies)

Mass - Crack of Dawn

- First time ever one vinyl
- 200 Unit Pressing
- 150 Black vinyl available
- Full Color Inner Sleeve
- Remastered

NoLifeTilMetal Records is proud to bring you a very special vinyl and CD release of the Mass classic "Crack of Dawn". Originally released in 2010 on CD only, this title has been long out of print and sought after by fans of melodic hard rock and heavy metal. Mass formed in the early 1980's in Boston, Massachusetts and have recorded multiple albums for some of the biggest record labels including RCA, A&M and Enigma Records and worked with some of the biggest producers in the business including Tony Platt (Iron Maiden/Motorhead/Uriah Heep) and Tom Allom (Judas Priest/Krokus).