---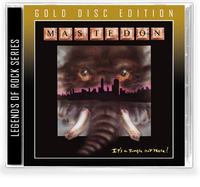 Sale
MASTEDON - IT'S A JUNGLE OUT THERE + 3 Bonus (*NEW-CD, 2020, Girder) Elite Remaster AOR/Hard Rock
8 Page Booklet with Gold Disc CD (Flip the Booklet Over for the Original Full Cover)
Remastered by John Elefante
Includes Ripstream™MP3 Download

Includes 3 BONUS TRACKS
ABOUT GOLD DISC
The advantage of the gold reflection layer is its increased resistance to corrosion, in contrast to the ordinary aluminum layer found on normal compact discs. Due to concerns over the incidence of CD rot on early CDs, gold CDs were thus seen as a potential solution. Compare any gold disc to its standard-priced silvery cousin, and the golden one will invariably seem richer, deeper, clearer -- better. There are plenty of audiophiles willing to pay extra if it means they'll get more from the recordings they love.
MASTEDON  VINYL & GOLD DISC

The 2020 Girder Records reissue encapsulates all the magic of the original release for the ultimate in remastered and re-loaded reissues and included 3 Bonus Tracks, Wasn't It Love from the California Metal release as well as 2 live tracks from Cornerstone 1991.
The 1940's animated Disney character, Dumbo became a hit sensation as a cruelly named elephant who was ridiculed for his large ears. But, Dumbo wasn't your average elephant and used those massive ears for wings and he could fly! Fast-forward to 1989, when John and Dino Elefante formed the rock band Mastedon and showed the world that Dumbo wasn't the only elephant who could fly! With larger-than-life melodic hooks and a steady stream of hard rock heroics the band's debut album, It's a Jungle Out There!" took flight and AOR fans could not get enough. Owning Pakaderm Records, running a recording/producing studio, and working with bands like Bride, Petra, The Brave, Barren Cross, Guardian and more, the ex-Kansas duo had a revolving door of rock music stars around at any given time. Not a band as such since it's very much musicians who were around the studio laying down a vocal, guitar lick, drum solo, etc. The band's second album literally says, "Thanks to all the mystery guests whose names we are unable to list due to the usual legal entanglement." The brothers approached Mastedon as a project. With a total of five lead vocalists participating on the debut in addition to three drummers, four bassists and three guitarists, it remained a project in the truest sense of the word. The most easily recognized names include vocalists Dave Robbins (X-Sinner), Dave Amato (Ted Nugent, REO Speedwagon), David Pack (Ambrosia) and Perry Lee (Tracer Fox), guitarists Steff Burns (Y&T) and Dave Amato and bassists John Pierce (Richard Marx) and John Patitucci. John (lead vocals & keyboards) and Dino (rhythm guitar & bass) lend their abilities to the album as well. The album flexes its muscles in places (such as on "It's A Jungle Out There" and "Love Inhalation") but otherwise it delivers a commercial based sound perfectly suited for FM radio ("Glory Bound," "This Is The Day" and "Love That Will Survive"). You will also find a couple of elite ballads, along with a progressive piece, "Right Hand." The crown jewel of the album might be the big-budget-like sonics, compliments of John and Dino. The result is pure, unadulterated AOR perfection.
It's A Jungle Out There 3:54
Glory Bound 4:17
This Is The Day 4:14
Love Inhalation 4:39
Islands In The Sky 3:42
Get Up 4:00
Love That Will Survive 4:02
Innocent Girl 3:42
Shine On 4:24
Right Hand 6:05
BONUS TRACKS
Wasn't It Love (from the California Metal Compilation)
Islands In the Sky (Live at Cornerstone '91)
Right Hand (Live at Cornerstone '91)