---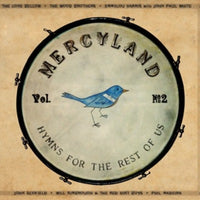 MERCYLAND HYMNS FOR THE REST OF US: VOL 2 (*CD, 2015) NEW Digiwallet Packaging
The Lone Bellow -- The Wood Brothers -- Emmylou Harris with John Paul White -- Humming People -- Angel Snow -- Jason Eskridge -- Sugar & The Hi-Lows -- Will Kimbrough -- Phil Madeira -- The McCrary Sisters -- David Crowder -- John Scofield
Following the highly acclaimed Mercyland: Hymns For The Rest Of Us, released in 2012, Nashville veteran musician Phil Madeira once again delivers a stunning anthology of gospel infused Americana music featuring a gifted cast of artists.
The original concept began in 2009, when Madeira asked his boss, Emmylou Harris, if she would be interested in being a part of a recording of Gospel music that was inclusive, engaging, and socially aware, a project that revolved around the idea of God embodying Love. Emmylou said yes, and 10 other artists followed her.
Madeira explains,
The idea wasnt to make a Christian record, but it was to pay tribute to the great body of work which is in the bones of Americana, country, and blues. Mahalia Jackson and The Staples Singers were socially relevant, calling on a so-called Christian society to put its money where its mouth was. I conceived this project as a reaction to the Fundamentalism that pervades so much of religion today. 
Mercyland is for everyone - no borders, no jails, no souls for sale. These records are for those of us who recoil at the idea that spirituality is only for a select few. Releasing officially on January 15, 2016, Mercyland Volume II lives up to the same high standards set by the original project. There are some return guests including Emmylou Harris, John Paul White, Amy Stroup (this time with her band mate Trent Dabbs, as Sugar And The Hi-Lows), and John Scofield once again giving a beautiful instrumental benediction to an otherworldly record.
Perhaps The Lone Bellows opening line of the record is the best invitation of all- Lets go to heaven together!- this record just might take you there.