---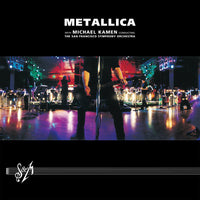 Metallica & The San Francisco Symphony Orchestra ‎– S&M (*Pre-Owned 2 CD Set, 1999, A&M)
Well cared for
When Metallica and Michael Kamen decided to collaborate on this project together, history was in the making. When it was announced to the publlic, a lot of fans had some questions lurking in their minds. Would it be something that would blow people's minds away or would it be a gig that not many people would be getting excited about? That question would be answered as Metallica unveiled their old songs through different albums, with the power of the San Francisco Symphony Orchestra behind it. The result? A mind-blowing album that's filled with a lot of power and intensity.
Each song has been given the proper treatment and it definitely shows how hard both Metallica and Michael Kamen worked on them. You can actually feel the presence of the orchetra filling in the blank spaces of the songs. All sorts of instrusments are brought out to carry out the feeling and power of those songs. From the violins to the saxophones, each instruments brings out it's power and gives each and every song a whole new kind of meaning to them. Some of the best songs on the live album would have to be The Call Of Ktulu (which recently won a Grammy), Master Of Puppets, One, Battery, Nothing Else Matters, For Whom The Bell Tolls, and more songs than you can shake a stick at. The two new songs, -Human and No Leaf Clover, certainly rumbled the place as well.
Whether your a fan of Metallica or not a fan, you owe it to yourself to at least listen the entire album just once. I remember watching the documentary for the whole S&M project (this was for a limited time only) and James Hetfield stated they were just experimenting with this project - and that is so true. Metallica have been making history in their career and I highly believe that the band will do some magical things in the future and S&M proves this. The only complaint that most fans have is the fact that any song from the Kill Them All album were not part of the setlist for S&M. My guess is that perhaps those songs weren't melodic enough. Even so, S&M is an awesome album and is definitely worth the price.