---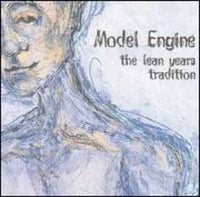 Sale
MODEL ENGINE - THE LEAN YEARS TRADITION (*NEW-CD, 1997, Sarabellum Records) post-Black-Eyed Sceva
Brilliant progressive modern rock!  
1. Hang You Upside Down
2. Scarred But Smarter
3. Reeperbahn
4. Suture
5. Weathervanes
6. Walking Wounded
7. Anonymous F
8. Halcyon Days
9. Encore
10. Rosinante
CUSTOMER REVIEW
Jeremy Post had a hard enough time carving space for himself when the band was Black Eyed Sceva. Then the lead man, philosophical and spiritually intense in the band's first two albums, decided to detonate himself on The Lean Years Tradition. Post's lyrics are angry, despondent and impenetrable. Themes of doubts cloud over the religious confession. Dissonance prevails. This became the album with nothing for everyone.

Yet what makes The Lean Years Tradition so irrelevant is what makes it so poignant. The album is always a step ahead of its listeners, musically and existentially. It makes grunge - too often a lazy genre - into something hard working, dishing out odd time signatures and smart percussion. It forces Christian identity, too often bland, through the prism of Kierkegaardian angst. The album's only soft spots ("Walking Wounded," "Halcyon Days") are where the band eases off the throttle.

Post was too good for the industry, and too good a man for the artistic underground. He has left us his ruins.

Those who want to understand The Lean Years Tradition need to do more than listen to it. They need to share it with a half dozen people who will think nothing of it. That will be enlightenment. Fans, much like Post, should be scarred but smarter.