---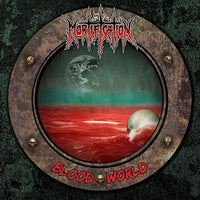 Sale
 ALBUM DESCRIPTION 
Continuing with a chronological release of Mortification albums on VINYL, Soundmass are happy to announce the LP release of their 1994 album Blood World.
The band's 4th studio album sees them with a new drummer, a new producer and a new sound  unabashedly thrash metal, but with groove and classic metal influences. It was at this point that Mort followers realised that the band would constantly evolve and experiment, never repeating themselves. According to Australian Music Online: The strange combination of extreme styles began setting Mortification apart from the crowd of same sounding bands and widened the band's audience as they became quickly recognised as innovators and not imitators.In fact, despite the popularity of their early classics like Scrolls Of The Megilloth and Post Momentary Affliction, it was actually Blood World that went on to be the best selling album from Mortification?s entire catalogue. It is a solid slab of thrash full of great songs, some of which became Mort classics.
Remastered for vinyl and with the original cover art re-created from scratch by the legendary Tobias JŠpel, this is the first time Blood World has ever been available on vinyl. This edition is a must for fans of this pioneering Aussie band and any true thrash devotee. Included is an insert containing lyrics, credits and photos.
TRACK LISTING:
SIDE A
Clan Of The Light
Blood World
Starlight
Your Life
Monks Of The High Lord
SIDE B
Symbiosis
Love Song
Live By The Sword
J.G.S.H.
Dark Allusions