---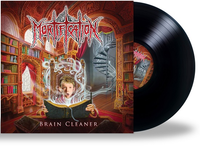 Continuing with our chronological release of Mortification albums on VINYL, Soundmass are happy to announce the LP release of Brain Cleaner.
Mortification is the undisputed pioneer of Christian death/thrash metal and Australia's most successful metal band. With releases on label giants like Nuclear Blast and Metal Blade, albums like 'Scrolls Of The Megilloth' and 'Post Momentary Affliction' which are considered classics, world tours and a sound that is constantly being reinvented, Mortification is a band that cannot be put in a box.
Brain Cleaner (2004), their 11th studio recording, sees the band on fire. They incorporate elements of all their past albums, but this time with a BIG dose of the death/thrash metal that early fans had been longing for. From the thrashy opener 'Boaconstrictor' throughout, Mortification is faster and more aggressive. There are still elements of groove ('Purest Intent') and classic heavy metal ('12 Men', a song from the early Lightforce days), as well as a recognition of Steve's love of Motorhead ('Brain Cleaner'), but the songs are much angrier and darker than their last few albums and Steve pulls no punches lyrically. Fans are treated to loads of fast double bass, some blastbeats, killer fretwork and thumping, upfront bass, all combined perfectly by Mortification's usual hook-laden songwriting. If there was ever any doubt… Mortification were back to form!
17 years since its initial release, this is the first time Brain Cleaner has ever been available on vinyl. Remastered for vinyl and with Troy Dunmire's original cover artwork in full-sized splendour, this edition – a limited pressing of 250 copies on black vinyl – is a must for fans of this pioneering Aussie band and any true metal enthusiast.
TRACK LISTING:
Side A
Boaconstrictor
Too Much Pain
Purest Intent
Free as a Bird
Brain Cleaner
I'm Not Your Commodity
Side B
The Flu Virus
Livin' like a Zombie
12 Men
Louder than the Devil
E.D.