---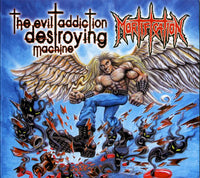 Sale
Only a handful of copies left - Import 
Tracklist
1 The Evil Addiction Destroying Machine
Lyrics By, Music By – Steve Rowe 5:01
2 The Master Of Reinvention
Lyrics By, Music By – Steve Rowe 4:44
3 A Sense Of Eternity
Lyrics By, Music By – Steve Rowe 5:46
4 Elastisized Outrage
Lyrics By, Music By – Steve Rowe 2:51
5 One Man With Courage Makes A Majority
Lyrics By, Music By – Steve Rowe 3:29
6 Pilots Hanging From Shoulder Dust
Lyrics By, Music By – Steve Rowe 4:40
7 Pushing The Envelope Of The Red Sonrise
Lyrics By, Music By – Steve Rowe 5:35
8 I'm Not Confused
Lyrics By, Music By – Steve Rowe 4:17
9 Alexander The Metalworker
Lyrics By, Music By – Steve Rowe 3:36
10 Resurrection Band (A Tribute To Rez)
Lyrics By, Music By – Steve Rowe
CUSTOMER REVIEW
This Album is the latest offering from the best Christian metal band in history Mortification. I waited quite a while before i got this cd i'm not sure why because i have all the other albums that Rowe and co. have put out. When i got this i automatically noticed the great cover art which is very similar to the Triumph of Mercy cover and the Relentless album. I think the artwork reflects the music that's on the cd. From the opening track to the last this is pure Steve Rowe at his best.

The bass sound is fat and thick like you got steam rolled with a huge block of cheese. The bass is super thick and very much a signature of Mr. Rowe. The Guitars are very heavy and crunchy similar to the Erasing the Goblin CD. Adam Zacharese returns to the drums on this album after being gone for some time and does an amazing job, his playing has improved from when we last seen him.

The overall sound is Steve Rowe dominated. By this i mean that the arrangements and riffs are signature Steve Rowe that can be a good and bad thing depending on who you are. Each song is different but the same as well. Each song is heavy and fast with Steve's "Zig zag" style riffs. The songs should be listened to as a whole in my opinion as they have a similar style not varying too much from each other. I do believe this is as close as they have come to capturing their live sound of one guitar one bass and drums as when Mick goes into a solo all that can be hurt under it is bass and drums but never loses its depth and thickness. I believe Steve knew what he was doing on this album from start to finish.

Steve's vocals don't vary too much either on this cd sticking more to the thrash type sound as on Erasing the Goblin or Primitive Rhythm Machine. There are some lower sounds but never goes too far from the mildly dirty growl which has always been my favorite out of all the styles that he has sang with.

All in all this is a solid effort for the Mortification crew: heavy metal from start to finish from a pioneer in the metal community.