---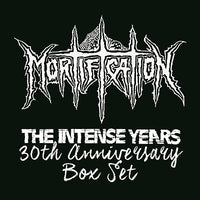 Sale
Mortification The Intense Years + Metal Missionaries (7-CD Box Set/Book PACK) w exclusive live CD
Originally printed in 1989, Metal Missionaries (not to be confused with Vic Campbell's Metal Missionary) is a 68-page book written by Lightforce/Mortification bassist Steve Rowe. The purpose of the book was to enlighten people about the heavy metal culture and to encourage Christian metal fans and bands (back when the scene was in its infancy). The original style of the book has been maintained so as to preserve its vintage feel.

Soundmass is happy to present this 7-CD Box Set to celebrate the 30th Anniversary of the legendary MORTIFICATION! Housed in a black box and limited to 200 copies, it contains all 6 of their landmark releases on Intense Records as well as an exclusive live CD:

Mortification
Scrolls Of The Megilloth
Post Momentary Affliction
Live Planetarium
Blood World
Primitive Rhythm Machine
Live 1996

All 7 CDs come in digi-wallets – also known as mini-LP sleeves – and all of them (with the exception of Live 1996) include 12-page booklets with all-new layouts – alternate covers, lyrics, photos, flyers, articles and album histories written by Scott Waters (Ultimatum/NoLifeTilMetal). The CDs all contain bonus tracks as well, the majority of which have never been released before.

The Live 1996 CD – exclusive to this Box Set and never released before – was a sound-board recording from Mortification's EnVision EvAngeline US Tour. It was recorded for consideration as an offical live release but never used.