---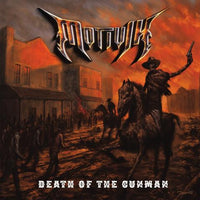 MOTIVIK - DEATH OF THE GUNMAN (*NEW-CD, 2021, Roxx) Blistering elite Christian THRASH!

PACKAGING: Jewel Case Edition w/8 page booklet

Well we made it to the end of the year, and what a crazy year it has been. Aside from all the craziness, Roxx Records still kept the music coming with almost 40 new releases this year. Many of which have been brand new artists and brand new music. And we are not quite done yet….

Roxx Records is excited to announce our last full release for 2020 the brand new release from Atlanta's very own Motivik. How do you say Motivik? (MOE-TEE-VICK) what does Motivik mean? Motivik is derived from the word Motive. And what is the Motive of Motivik? To rock you hard with a message of hope and encouragement for a lost generation.

Motivik features Ryan Roebuck handling the music and vocals and Courtney Simmons on vocals. That's right dual vocalists, modeled in a way much like Gary Lenaire and Guy Ritter from Tourniquet except they pretty evenly share the vocal duties. If you ask Motivik what there sound is like or what their style is they would say they are 'Melodic Groove Thrash'. A little more on the thrashy side if you ask us, especially when you listen to the bands cover song from Sacrament 'Souls in Torment' featuring a guest appearance from Sacrament's very own Robert Wolfe. Check out a sample of the track here.