---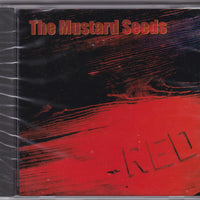 CD
This is the original version released with the electric version of "Quicksand" but does not include the track "Hollywood"
This release was limited to 1000 Units World-wide.
CUSTOMER REVIEW
I agree with all the other reviews--this is an easy five-star CD, and one of my favorite albums recorded in the past 20 years. It's got everything you want in a great pop-rock album. That said, this 2000 re-release of the original recording (with the red butterfly on the cover) is slightly different from the original (which was solid red with a wood-like grain). This version contains a song that wasn't on the original release, "Hollywood." And the original album had an electric version of "Quicksand" that I much prefer to the "alternate" acoustic version which is the only version included here. "Hollywood" is a good song, but I'm not sure I'd trade it for the electric "Quicksand." I presume "Hollywood" is a track that didn't make it to the original album.
This is a minor quibble, and you shouldn't let it stop you from getting this great CD. I've owned both versions, and I don't notice much if any difference in sound quality. Red is a classic. It should be in your collection.
CUSTOMER REVIEW
This is another one of those great bands you've never heard of. I'd describe them as the Beatles of the 21st Century, although their music has a little harder edge to it. They remind me a lot of King's X (another underrated group) .... great music with meaningful lyrics. Definitely check out this sophomore release from the Mustard Seeds.
Tracklist
1 Sylvia Beams 2:39
2 Coming Up Roses 3:29
3 Can't Take Me Down 3:18
4 Dying 3:48
5 Farewell To Andre 3:08
6 I'm Okay 3:22
7 Alabama Sings 3:12
8 Queen Of Misery 2:51
9 Way Of The World 3:07
10 Blind 3:34
11 Quicksand (Acoustic) 5:45
Youtube: https://www.youtube.com/watch?v=ZchehsDDCcI