---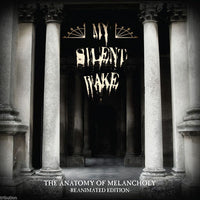 Sale
Label: Bombworks Records
Product ID: BWR0113
Style: Death/Doom Metal
Packaging: 6 panel full color digipak / 2 CD
Barcode: 845121058345
ABOUT THE ALBUM
The brainchild of this haunting, melancholic blissful masterpiece is
Ian Arkley - a real veteran in the British metal scene, paying his
dues with thrashers Seventh Angel and fellow doomsters Ashen
Mortality. Five years after the original release, Bomworks Records
brings you 2013?s digitally remastered reissue of the iconic The
Anatomy Of Melancholy (Reanimated Edition), packaged in a full color
six panel digipak that is once again divided into two parts with the
first disc laden with distorted guitars and some strong death growls.
The second disc is acoustic medieval/folk-Goth oriented doom. When
"The Dying Things We're Living For" commences you get the feeling
you're thrown back into the early 90's, hearing something that sounds
like a combination of Paradise Lost's Gothic with Anathema's
Serenades. The sound, the guitar leads, the vocals, they all fit
perfectly in achieving that feel and strength those bands once had,
but few others have managed to capture since. Expect enough rhythm
changes and progressive moments to make this magical, while never
resorting to cheap theatrics to make things sound more tragic and
depressing as many current doom bands do. The second part of the
album opens with an instrumental acoustic number that borrows heavily
from the middle-ages and fully embraces folk-Goth. Arkley makes use
of his deep and poignant voice to great effect. The well-placed
eruptions of emotion in their otherwise beautifully tragic
compositions on this release perfectly illustrate the occasional
periods of schizophrenic despair that every human experiences
throughout life. Any fan of Anathema will find The Anatomy of
Melancholy to be very satisfying from start to finish. Those
discovering this band for the first time will undoubtedly feel that
they have discovered a jewel among so many dull stones found within
this genre of music. This doom/goth music harkens back to the glory
days of British metal, where such greats as Anathema and My Dying
Bride created some of the best doom metal known to man.
TRACKS
Disc 1: First Volume
1. Finio (0:19)
2. The Dying Things We're Living For (6:42)
3. Severed (7:13)
4. Heretic (11:51)
5. Into Silence (8:01)
6. Wobe (1:29)
7. Sullen Earth (11:50)
8. Sturm (5:57)
Total Time: 53:25
Disc 2: Last Volume
1. The Anatomy of Melancholy (4:23)
2. Revolution (6:23)
3. In the Glow of the Autumn Sun (4:53)
4. Look Beyond the Flesh, Look Beyond the Mind (2:52)
5. Dying (1:26)
6. Oceans of Time (2:23)
7. A Photograph (7:29)
8. To Bid Farewell (3:56)
9. Storm (7:56)
Total Time: 41:45