---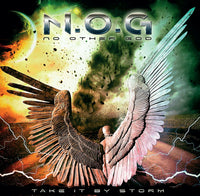 N.O.G. - TAKE IT BY STORM (*NEW-CD, 2019, Roxx) Dale Thompson/Bride
Are you ready to kick off this New Year a rockin'? Then get ready to rock as we are about to 'Take It By Storm', as we debut the brand new album from No Other God (N.O.G). N.O.G will be releasing their brand new album 'Take It By Storm' worldwide this February!
Still not familiar with N.O.G ? Well you must be living under a rock! N.O.G features not only the talents of Dale Thompson (Bride, Perpetual Paranoia) out front on vocals, but also Nenel Lucena on lead guitar, Alexandre Aposan on drums and rounding out their sound on bass Raphael Dafras. With Dale hailing from New Zealand, the rest of these very talented musicians hail from the beautiful country of Brazil. Despite the distance between them, this talented bunch was able to come together and bring you this most excellent debut wall shaking, heart stopping, and super heavy metal shredder, quite possibly the hardest rocking album you have ever heard Dale take the helm for.
Take It By Storm features beautiful new artwork courtesy of Alcides Burn, of Burn Artworks, and we are very excited to share with you the brand new cover art for Take It By Storm.