---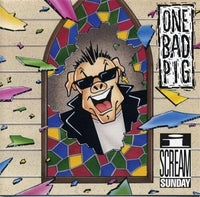 Sale
ONE BAD PIG - I SCREAM SUNDAY (*NEW-CD, 1991, Myrrh) Punk Metal featuring Johnny Cash
We un-earthed the last of the factory sealed new copies of this classic CD!  
This is one of One Bad Pig's best efforts. Definitely their most consistent release since "Smash."

The real reason to get this album, however, is to lay your hands on their cover of "Man In Black" with Johnny Cash himself on lead vocals. The song is incredible - one of his and their best tunes.

Other standouts include "Spirit of Murder," "Never Forget the Cross" and "Wholly My Lord"
Tracklist
Take A Look At Yourself 4:22
You're A Pagan 2:18
I Scream Sunday 3:14
Man In Black 3:00
Not Love Money 4:18
Cut Your Hair 5:11
For A Good Man 4:05
Ice Cream Sundae 2:03
Bird Nest 3:06
Up The Nose 0:55
Spirit Of Murder 4:58
Sober Up 2:42
Pad Thai 0:20
Never Forget The Cross 4:22
Wholly My Lord 3:50