---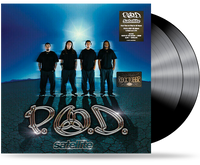 P.O.D. ( PAYABLE ON DEATH ) - SATELLITE (*NEW-2-LP Black Vinyl, 2021)
2021 Remastered
2xLP
Release date 9/2021
20th Anniversary Edition Of The Band's Biggest Album Includes A Newly Remastered Version Of The Original, Plus Rare Tracks And Unreleased Demos on the CD.
In 2001, P.O.D. released its fourth studio album Satellite, a triple-platinum smash that remains the hard rock band's best-selling album. To celebrate the record's 20th anniversary, the San Diego-based group is hitting the road for its Satellite Tour and releasing a newly remastered version of Satellite, which has been expanded with rare and unreleased music.
SATELLITE: 20th ANNIVERSARY VINYL 2xLP EDITION is back on vinyl as a double-LP as a part of Rhino's Rocktober campaign which includes all 15 original songs completely remastered in a 2xLP Gatefold.
Album History
P.O.D. enjoyed a taste of mainstream success in 1999 with the arrival of its third studio album – and major-label debut – The Fundamental Elements of Southtown. That platinum album primed the pump for an even more significant commercial breakthrough two years later with Satellite. After debuting at #6 on the Billboard 200, the record went on to sell more than seven million copies worldwide, including three million in the U.S. The record generated four singles: the title track, "Alive," "Youth Of The Nation," and "Boom." In addition to its commercial success, Satellite also earned P.O.D. three Grammy® nominations for: "Alive" (Best Hard Rock Performance, 2002), "Portrait" (Best Metal Performance, 2003), and "Youth Of The Nation" (Best Hard Rock Performance, 2003). 
P.O.D. Kicked Off Satellite Tour On August 14 which began in Sturgis, SD, at the famous Sturgis Motorcycle Rally. The group played concerts across North America, including the Satellite Tour's last show in their hometown of San Diego on October 7.
SATELLITE: 20th ANNIVERSARY EDITION 2LP Track Listing
"Set It Off"
"Alive"
"Boom"
"Youth Of The Nation"
"Celestial"
"Satellite"
"Ridiculous" (featuring Eek-A-Mouse)
"The Messenjah"
"Guitarras De Amor"
"Anything Right" (featuring Christian of Blindside)
"Ghetto
"Masterpiece Conspiracy"
"Without Jah, Nothin'" (featuring H.R. of Bad Brains)
"Thinking About Forever"
"Portrait"