---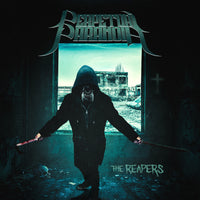 Sale
PERPETUAL PARANOIA - THE REAPERS (*NEW-CD, 2018, Retroactive Records) 
***ALSO ADD TO YOUR CART THE DALE THOMPSON band THE WORLD WILL BURN CD "SEVERITY" 
This is the second pressing of THE REAPERS and this version of the CD is different than the first 300 copies....and there's a story behind it.....SOOOOOO....the band originally sent us the files for manufacturing...we thought they were sending them for us to have mastered before going to manufacturing....not so....but we didn't know that.  We had them mastered and then submitted the audio to manufacturing....the CDs were pressed and we shipped the CDs to the band....dear Tiago received his CDs and could tell right away that this CD was not the mastering that he had worked diligently to have represent the album (we love BOTH mastering versions!).  So Tiago contacted us and we realized the mistake that was made, and we digitally distributed the correct version of THE REAPERS, but those first 300 Units were actually mastered by Rob Colwell in spite of what the packaging says....so when we ran out of CDs, and had to repress, we repressed with the Tiago approved mastering job that he always intended for the CD to have.....ENJOY!
Artist: Perpetual Paranoia
Title:  The Reapers
Record Label: Retroactive Records
Product ID:  RRCD1473
Barcode: 637405138870
Packaging: CD 6 Page insert with lyrics 
Release Date: July 24th, 2018
ABOUT THE ALBUM
Perpetual Paranoia is Dale Thompson, best known as the frontman of legendary Christian metal band, Bride and The World Will Burn and the Brazilian, Tiago James de Souza, an extraordinary musician best known as the guitarist of Bay Area, California thrash metal band, Hand Of Fire! With Perpetual Paranoia the band is unleashing pure metal mayhem! The Reaper specializes in blunt force trauma that magically transforms brutality into catchy! This is ultra-creative, aggressive HEAVY METAL performed with both skill and precision. Dale's vocals are more aggressive than anything he's ever done, while never losing his signature sounds. Tiago is a guitarist's guitarist - laying down tasty riffs and solos at an elite level. And, while many aggressive metal bands are simply cookie-cutter copy-cats, Perpetual Paranoia utilizes double-bass to hammer home an album filled with progressive, passionate moments that keep the listener on the edge of the seat with a growing anticipation that is ultimately fulfilled. The Reaper strikes a signature balance between light and dark, beauty and repulsion, as the album progresses forward into the unfamiliar and formidable. Not one dimensional at all, multi-layered soundscapes dominate every song. Expect tons of time changes. Every song is a journey of thrashy aggression and darkness. The Reapers will be on many people's best of 2018 list, and yes, it's that good! 

Tracks
Intro
The Reapers
Whatever It Takes
I Say Jesus
Your Sin Will Find You
The Veil
The God Syndrome
Romance X
Holy Ghost
Let the Dead Bury the Dead
Ten Thousand Saints
Dream Before the Nightmare