---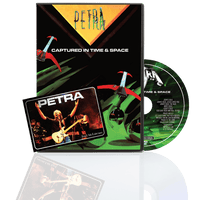 Petra - Captured In Time & Space (DVD) 2022 GIRDER RECORDS (Legends of Rock) w/ Collectors Trading Card
We strongly encourage you to purchase hassle-free low cost insurance for your order at checkout. It will cover your entire order against damage, not just this item. Insurance does not cover delays by the carrier.
DVD

Contains the song THE GREAT I AM (Not on CD)
Special Print LTD Collectors

 

Trading Card #76

2022 Girder Records,

 

GR1130

Originally Release in

 

1986
Legends of Rock™ Edition

Release Date: April 15, 2022
UPC: 763416070165
Petra left an indelible mark on teenagers all over the world throughout the 80's. Bob Hartman (founder) and Greg X. Volz and band dropped 6 elite albums from 1979-1986.  However Petra's Captured In Time and Space, which was released in 1986, would be the last for Greg X Volz and the end of an era as John Schlitt would join Petra as new lead vocalist latter that same year. 
Usually live albums are not favorites among fans, unless of course you were privileged enough to be in the crowd (then you tell everyone you know, "I was at that show").  However this album for so many of us left an impression not much different from the studio recordings.  Everything about it was great. The sound quality is great and it contains all their top hits, a 3-song Rock Medley as well as a Mellow Medley and a guitar, Drum and Keyboard solo, literally everything you want from a great live performance and none of the stuff you don't want.  
One of the odd things about the CD version of Captured In Time and Space compared to the Cassette and DVD is that the CD was a combination of 3 live performances (shown below), however the DVD/ was all the same show, recorded in Greenville, SC on Nov 22, 1985. The cassette version and DVD contained an additional song called THE GREAT I AM, which came towards the end of the Altar Call that wasn't on the original 2xLP Vinyl or CD.  That song can be found on this DVD. The DVD didn't contain the song Computer Brains
Recorded at:
Civic Auditorium Knoxville, TN - November 21, 1985
Memorial Auditorium Greenville, SC - November 22, 1985
Township Auditorium Columbia, SC - November 23, 1985
Tracks
Beat The System
Clean
Grave Robber
Hollow Eyes
ROCK MEDLEY
Stand Up
Not By Sight
Judas' Kiss
MELLOW MEDLEY

Coloring Song
Road To Zion
More Power To Ya
John's Solo
John's Solo: Jesus Loves You
John's Solo: The Race
Bob's Solo
Louie's Solo
God Gave Rock and Roll To You
PRAISE MEDLEY

Let Everything That Hath Breath
Without Him We Can Do Nothing
Praise Ye The Lord
Hallelujah Chorus
Godpleaser
Alter Call
The Great I Am
It Is Finished